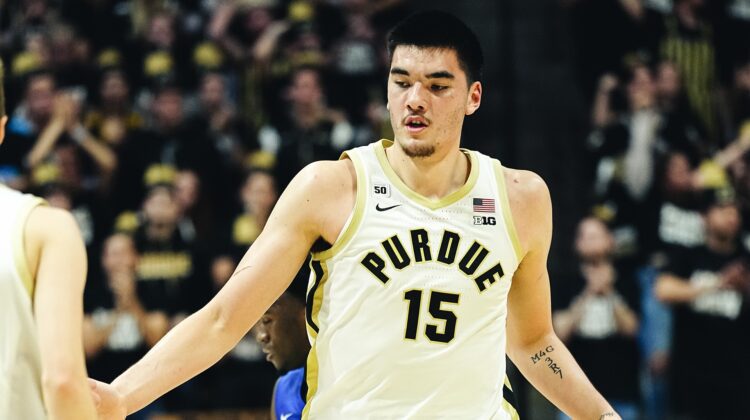 The bar was set as soon as Zach Edey pressed the send button on the tweet that announced his decision to return to Purdue for another season.

The 7-4 Edey — last season's National Player of the Year — knows what he's walking into.

Now two and a half months removed from the biggest upset in the history of the NCAA Tournament, Edey and the Boilers have only one way to erase last March's loss to FDU in the Round of 64 and that's by reaching the 2024 Final Four in Phoenix.

Harsh?
Not at all.
Many times last season, I stated on multiple platforms that Edey's dominance — staggering averages of 22.3 points, 12.9 rebounds, and 2.1 blocks — combined with the overall wide open landscape of college basketball made the 2023 NCAA Tournament a "Final Four or bust" type scenario for Purdue. This was before the Boilers lost to a team — FDU — that lost in the finals of the NEC Tournament to Merrimack, but still earned the right to play in the NCAA Tournament because Merrimack wasn't eligible for the bracket due to a "transition rule".

Edey's return combined with the returns of six other players — Braden Smith, Fletcher Loyer, Mason Gillis, Caleb Furst, Ethan Morton, and Trey Kaufman-Renn — who played in Purdue's NCAA Tournament loss to FDU only add to the urgency currently being felt in West Lafayette.
Does that mean that the regular season and conference tournament are meaningless?
Not necessarily, but ask yourself this question: Who really remembers that Purdue went 29-6 last year and won both the Big Ten regular season and tournament titles.

Final Four or bust?
You better believe it.
On The Side
One big thing to remember if Kentucky winds up starting five freshmen next season? The last time that the Wildcats did that was in 2014 and they wound up advancing all the way to the national title game.
Florida Atlantic didn't lose a single player of significance to the transfer portal after reaching the Final Four. That's an incredible feat in today's college basketball landscape.
The first college game for USC freshman Bronny James — the son of Los Angeles Lakers star LeBron James — will be against Kansas State on Nov. 6th at T-Mobile Arena in Las Vegas, a source told College Hoops Today. Oregon will also play Georgia as part of the multi-game event.
The least talked about NBA Draft Deadline decision that could have the biggest impact next season? Chase Audige (14.1 points, 3.4 rebounds) bypassing another year at Northwestern to begin a professional career.
Providence's Kim English said on this week's College Hoops Today Podcast that he expects Bryce Hopkins (15.8 points, 8.5 rebounds) to shoot more three-point shots next season. Hopkins took 77 shots from long distance last year in his first season with the Friars.
Leftovers