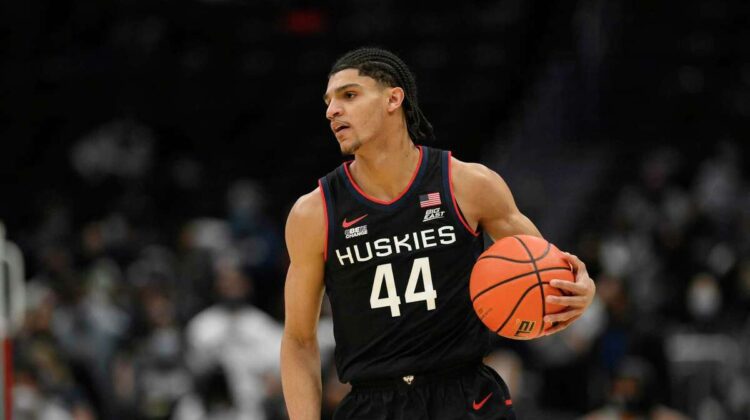 What will the top of the Big East look like next season?

We won't truly have an idea until the latter part of next week as next Wednesday (May 31st) represents the NCAA's early entry withdrawal deadline for the 2023 NBA Draft.

Check out our breakdown below as three top tier Big East teams await key personnel decisions:

UConn
Current ROTHSTEIN 45 ranking: 5
NBA Draft early entrants: Andre Jackson (6.7 points, 6.2 rebounds, 4.7 assists), Tristen Newton (10.1 points, 4.7 assists, 4.5 rebounds)
The Skinny: The defending national champions have a legitimate chance to get back to the Final Four for a second consecutive season if both Jackson and Newton return to school. While Newton's decision to come back to college for another season feels like a formality, Jackson's is more complex. The 6-6 point forward was UConn's most indispensable player during the 2023 NCAA Tournament and is currently projected to be selected in the latter part of the first round or somewhere between 30 and 40. Should Jackson — who had 41 assists and just 10 turnovers in the 2023 NCAA Tournament — return to school next season, he'll have a significant opportunity to refine his jump shot and take on more of a pronounced role offensively for the Huskies, who will need to replace the scoring that they lost following the departures of both Adama Sanogo and Jordan Hawkins. With Jackson back, UConn has a chance to return to the Final Four. Without him, Dan Hurley will have to lean on an inexperienced perimeter that could see two freshmen — Stephon Castle and Solomon Ball — as part of the starting lineup.

Marquette
Current ROTHSTEIN 45 ranking: 6
NBA Draft early entrants: Olivier-Maxence Prosper (12.5 points, 4.7 rebounds)
The Skinny: The 6-8 Prosper will reportedly keep his name in the 2023 NBA Draft after playing exceptionally well last week at the NBA Draft Combine in Chicago. How will that affect Marquette? It takes away an All-Big East player from the Golden Eagles' roster, but Shaka Smart's team still returns everyone else from a unit that won 29 games last season and both the Big East regular season and tournament titles. Look for 6-7 junior David Joplin (9.2 points) — who was one of the best sixth men in college basketball last season — to take Prosper's place in the Golden Eagles' starting lineup.

Creighton
Current ROTHSTEIN 45 ranking: 9
NBA Draft early entrants: Trey Alexander (13.6 points, 4.2 rebounds), Ryan Kalkbrenner (15.9 points, 6.1 rebounds, 2.1 blocks)
The Skinny: Can Creighton lose two starters — Ryan Nembhard (Gonzaga) and Arthur Kaluma (TBD) — to the transfer portal and still be a contender atop the Big East next season? Without question. If Alexander and Kalkbrenner return to school, they'll join Baylor Scheierman (12.8 points, 8.3 rebounds, 3.3 assists) as returning starters from last season's team that was one basket away from reaching the Final Four. Add Utah State transfer Steven Ashworth (16.2 points, 4.5 assists, 3.3 rebounds) — who made 111 three-point shots last season — and Greg McDermott should have four All-Big East caliber players at his disposal. If Alexander and Kalkbrenner return, Creighton is in business. If only one of them return, the Bluejays could fall into the middle of the Big East standings.
On The Side
Kansas is the new No. 1 team in the ROTHSTEIN 45 after Kevin McCullar (10.7 points, seven rebounds) announced his decision to return to school on Wednesday.
If Zach Edey opts to stay in the 2023 NBA Draft next week, expect Trey Kaufman-Renn to become an All-Big Ten player for Purdue in his place. The 6-9 big man played limited minutes last season behind Edey, but has major talent. Kaufman-Renn averaged 15 points and 4.7 rebounds last season in games where he logged 20 minutes or more.
Matchups are officially set for the 2023 Gavitt Games. The full lineup for the event can be found HERE.
Micah Shrewsberry said on this week's College Hoops Today Podcast that he wants to do "something" annually to showcase Notre Dame in the state of Indiana with either Purdue, Indiana, or Butler following the end of the Crossroads Classic.
Former Texas commit Ron Holland officially visited G-League Ignite this week in Las Vegas, a source told College Hoops Today. The 6-8 Holland is one of the top players in the 2023 class. He was officially released from his NLI from Texas on Tuesday.
Leftovers