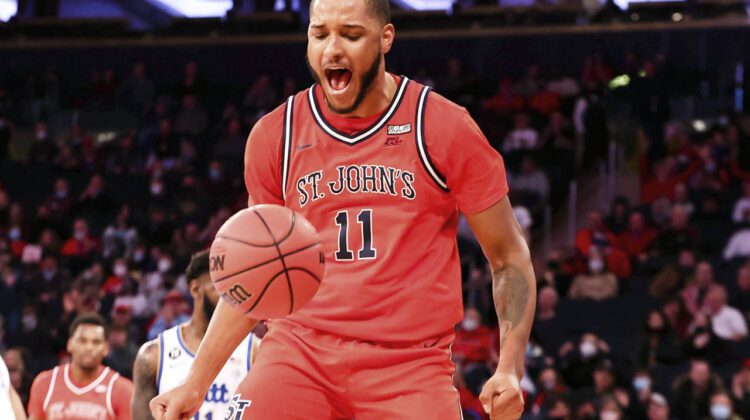 Rick Pitino made Joel Soriano a captain before he rebuilt St. John's roster.

Before he added 11 players in 55 days.

And before he surrounded the All-Big East big man with something that the Red Storm desperately lacked last season — outside shooting.

Three of St. John's incoming transfers — Daniss Jenkins (Iona), Ryan Conway (VMI), and Jordan Dingle (Penn) — made 56 or more three-point shots last season; not a single player on the Red Storm's roster made more than 43. St. John's also added a quality shooter in 6-7 freshman Brady Dunlap and a reliable veteran in UConn transfer Nahiem Alleyne, who made nine three-point shot shots during the Huskies' postseason run. The Red Storm shot just 33.1 percent from long distance as a team in 2022-23.

Why is this so important for the 6-11 Soriano, who averaged 15.2 points and 11.9 rebounds last season?

If St. John's can be significantly more consistent shooting the basketball next season, it will minimize how frequently opponents are able to double team Soriano in the low post. This will create more isolation situations for him to do damage on the block. Soriano shot an astronomical 56.3 percent from the field last season with limited floor spacing.

"He's unguardable in the low post one-on-one," one Big East coach recently told College Hoops Today regarding Soriano.

There will be no shortage of elite centers in the Big East next season. In addition to Soriano, UConn's Donovan Clingan (6.9 points, 5.6 rebounds, 1.8 blocks), Marquette's Oso Ighodaro (11.4 points, 5.9 rebounds, 3.3 assists) Xavier's Zach Freemantle (15.2 points, 8.1 rebounds), and Villanova's Eric Dixon (15.4 points, 6.6 rebounds) all possess first-team all-conference caliber ability.

St. John's is currently ranked 30th in the ROTHSTEIN 45.

The Red Storm have not made the NCAA Tournament since 2019 and haven't won a game in the NCAA Tournament since 2000.
On The Side
UCLA's Dylan Andrews had an assist-to-turnover ratio of 16:1 last season in games where he played 15 minutes or more. The 6-2 Andrews — who averaged 3.3 points as a freshman — will be a prime breakout candidate as a sophomore.
One thing that's not getting enough attention: North Carolina had seven players transfer following last season.
Mike Rhoades said on this week's edition of the College Hoops Today Podcast that Penn State will play one Big Ten game next season at The Palestra.
Cincinnati and Dayton are finalizing an agreement to play next season at Heritage Bank Center in downtown Cincinnati. It is the first meeting between the two programs since 2010.
Northwestern will play Rhode Island and Mississippi State will play Washington State in the first round of the 2023 Hall-of-Fame Tip Off at Mohegan Sun, a source told College Hoops Today.
Leftovers