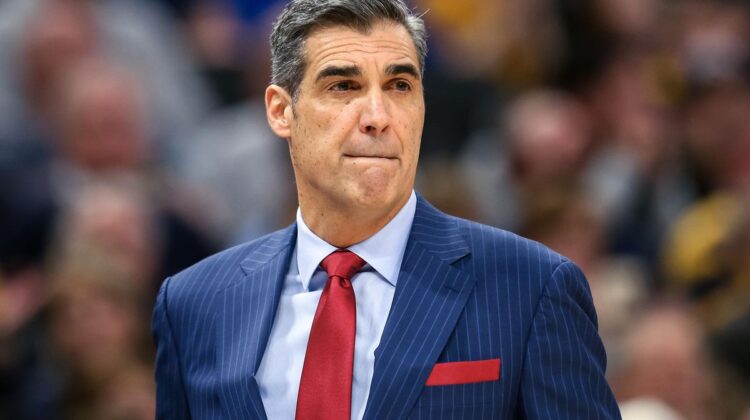 Who's hungry for college basketball?
Here's today's installment of "The Breakfast Buffet", a daily column that can be found here every single morning getting you caught up to date on everything that's happened from the day/night before and everything that's going to happen in the next 24 hours.
Mangia!
Things To Sample
Villanova is about go on a run
You didn't really think that the Wildcats were going to stay off-the-radar after four losses in their first 11 games, did you? Me neither. Villanova's 64-60 win at Xavier on Wednesday night officially opens the door for this program to firmly return to the national spotlight. Jay Wright's squad is now 12-4 and on a five-game winning streak entering a favorable part of its schedule. The Wildcats will play four of their next five opponents — Butler, Marquette, DePaul, and St. John's — at home and only has one game remaining on the road in January — a trip to Georgetown on Jan. 22nd. This team will be back in the Top 10 of the AP Top 25 by Feb. 1st — if not sooner.
LSU's defensive transformation is fascinating
The complete identity of this program has changed in less than a year. Last season, the Tigers were a star studded outfit with blue chip talent like Javonte Smart, Cam Thomas, and Trendon Watford, but they didn't even try to defend. Times have changed in Baton Rouge. Through 16 games, LSU is only surrendering an average of 56.5 points — it gave up an average of 75.2 points last season. This team plays with an edge on every possession and has beaten three of the SEC's flagship programs — Florida, Tennessee, and Kentucky — back-to-back-to-back. The Tigers are also capable of winning shorthanded as they beat Florida on Wednesday in Gainesville without starting point guard Xavier Pinson, who was out with a knee injury. LSU has also played all season without Illinois transfer Adam Miller, who is out for the year with a knee injury. Miller started as a freshman last season and averaged 8.3 points on a team that was a number one seed in the NCAA Tournament. Will Wade's team is now 15-1 and will next host Arkansas on Saturday.
Gonzaga returns to the forefront
It's been nearly a month since the Bulldogs last played a high profile opponent due to the makeup of their schedule and a COVID pause. This week, they'll face one known commodity and another that's unknown — at least to some. Gonzaga (12-2) will host BYU — who's currently ranked 35th in the ROTHSTEIN 45 — tonight in Spokane and will then travel to Santa Clara on Saturday. The game against the Broncos will not be a coronation. Santa Clara (11-5) started off the season with double-digit wins over both Stanford and TCU before its primary big man Josip Vrankic was sidelined with mono. Herb Sendek's team is 7-1 with Vrankic in the lineup and 4-4 when he is not. Gonzaga's next 80 minutes will be challenging.
On The Side
There's a lot of basketball to be played between now and Selection Sunday, but Auburn (15-1) has positioned itself to have a significantly better seed in this year's NCAA Tournament than when it advanced to the Final Four in 2019. Three years ago, the Tigers were a five seed and had to beat Kansas, North Carolina, and Kentucky back-to-back-to-back to reach college basketball's final weekend.
Malaki Branham has officially emerged as Ohio State's secondary scorer alongside E.J. Liddell. The 6-5 freshman is averaging 24 points in his last three games entering tonight's tilt in Madison against Wisconsin (13-2).
Marquette's upcoming seven-game stretch will ultimately determine its season. During that span, the Golden Eagles will play Seton Hall and Villanova twice, host Xavier, and travel to both UConn and Providence. Shaka Smart's team is currently 11-6.
Coaches at all levels always talk to their players about staying ready when their number is called. No one reiterated that sentiment over the past week better than Texas Tech's Clarence Nadolny. With Terrence Shannon Jr. out with a back injury, the 6-3 Nadolny averaged 14 points in back-to-back wins over Kansas and Baylor.
The best game this week in college basketball that enough people are talking about? Saturday's showdown in Nashville between Belmont and Murray State. The two top teams in the OVC currently have an overall combined record of 25-4.
Daily Specials
Ohio State at Wisconsin
Indiana at Iowa
Oregon at UCLA
Colorado at Arizona
BYU at Gonzaga
Leftovers