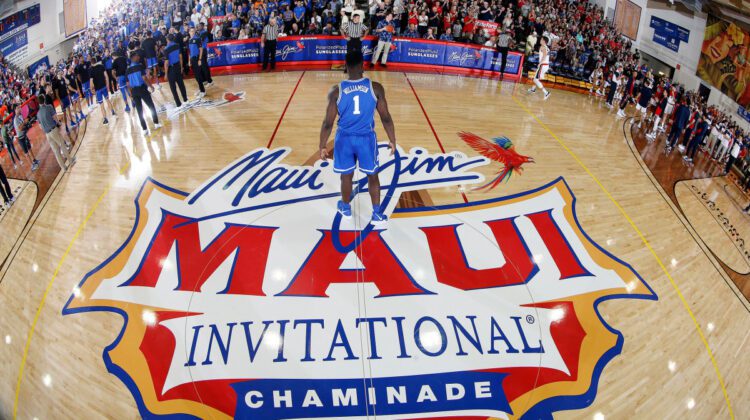 Who's hungry for college basketball?
Here's today's installment of "The Breakfast Buffet", a daily column that can be found here every single morning getting you caught up to date on everything that's happened from the day/night before and everything that's going to happen in the next 24 hours.
Mangia!
Things To Sample
The Maui Invitational
I've been on the national college basketball beat for nearly 20 years and this is by far the best field that I've ever seen in this event. Six of the teams in this year's Maui Invitational — Kansas, Purdue, Marquette, Tennessee, Gonzaga, and UCLA — were ranked in the Top 31 of last week's ROTHSTEIN 45. Syracuse and Chaminade are also in the event. Make no mistake about it: This is the premier early season tournament during the 2023-24 college basketball season.

Texas' frontcourt has major long-term potential
Kadin Shedrick's 27-point, seven-rebound performance in Sunday's one-point win over Louisville at MSG helped propel the Longhorns into today's Empire Classic title game against UConn. It also brings up an interesting question: Just how good can Texas' frontcourt be once Dylan Disu returns from injury? The answer is really good. The 6-11 Shedrick looks primed for a breakout season after transferring for Virginia while Disu — who is currently out with a foot injury — averaged 22.5 points and 10 rebounds in two NCAA Tournament games last March before he was sidelined. If this team can get healthy, it will possess one of the top baseline combinations in the Big 12.

Arizona's schedule is loaded moving forward
The Wildcats have been as impressive as any team in college basketball out of the gate, scoring 97 points or more in four of their first five games en route to a 5-0 start. Things moving forward won't be quite as easy. Starting with Thursday's showdown against Michigan State in Palm Springs, every single game that Arizona plays will be either against a Pac-12 opponent or a team that's projected to be in the NCAA Tournament. After Michigan State, the Wildcats will host Patriot League favorite Colgate and Wisconsin back-to-back before a massive game with Purdue in Indianapolis on Dec. 16th. Arizona will then play Alabama in Phoenix and Florida Atlantic in Las Vegas before beginning Pac-12 play at Cal on Dec. 29th. Wow!
On The Side
Kansas has 81 assists on 105 made field goals. The Jayhawks will play Chaminade later today in the first round of the Maui Invitational.
Mississippi State's Josh Hubbard is quietly one of the nation's most productive freshmen. The 5-10 guard had 29 points in Sunday's win over Northwestern at Mohegan Sun and is averaging 16.4 points while shooting 44.1 percent from three-point range.
Iowa State has won its first four games by an average of 45.5 points. The Cyclones haven't truly helped or hurt themselves yet, but they're dominating their competition. T.J. Otzelberger's squad will next face VCU on Thursday in the first round of the ESPN Events Invitational in Orlando.
Nebraska's Rienk Mast — who spent the first three years of his college career at Bradley — may be college basketball's least appreciated transfer. The 6-10 big man is averaging 14.8 points and 11.2 rebounds for the 5-0 Huskers, who are off to their best start ever under Fred Hoiberg.
UCLA freshman Berke Buyuktuncel will make his college debut on Monday night against Marquette in the first round of the Maui Invitational. The 6-9 forward was cleared over the weekend by the NCAA after missing the Bruins' first three games. Buyuktuncel averaged 11.4 points, 8.3 rebounds, and 3.7 assists this past summer at the FIBA U19 World Cup in Turkey.
Daily Specials
Syracuse/Tennessee (Maui Invitational)
Gonzaga/Purdue (Maui Invitational)
UConn/Texas (MSG)
Wisconsin/Virginia (Fort Myers)
Marquette/UCLA (Maui Invitational)
Leftovers