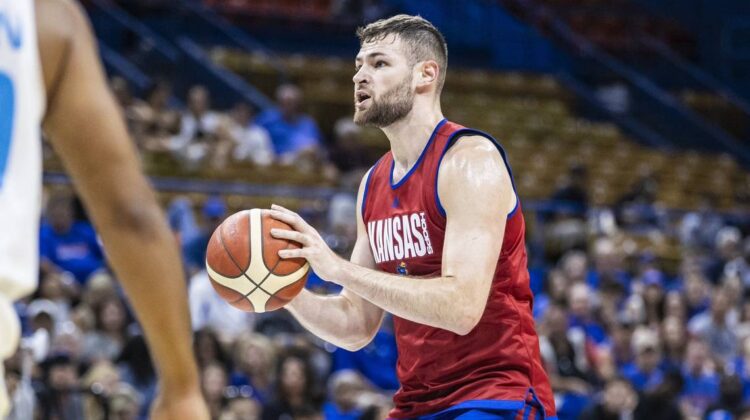 Who's hungry for college basketball?
Here's today's installment of "The Breakfast Buffet", a daily column that can be found here every single morning getting you caught up to date on everything that's happened from the day/night before and everything that's going to happen in the next 24 hours.
Mangia!
Things To Sample
The Champions Classic
Four of the best programs in the sport — Duke (1-1), Michigan State (1-1), Kansas (2-0), and Kentucky (2-0) — again headline the best early season college basketball event on the calendar. This year's Champions Classic is filled with so many questions. How will Duke respond after losing at home to Arizona on Friday? Will Michigan State be able to make any outside shots after shooting 2-31 from long distance in its first two games? Does Kansas have enough depth? Is Kentucky capable of containing Hunter Dickinson with three of its 7-footers — Aaron Bradshaw (foot), Ugonna Onyenso (foot), and Zvonimir Ivisic (NCAA eligibility) — all out of the lineup? There's a lot to sort out tonight at the United Center in Chicago.

Marquette visits Illinois
It's a shame that this game is going to be sandwiched in the middle of the Champions Classic because it feels like a Sweet 16 caliber matchup. The Golden Eagles returned 87.9 percent of their scoring from last season's team that won both the Big East regular season and tournament titles. They've lived up to the billing early too, beating their first two opponents by an average of 26 points. Illinois (2-0) meanwhile, has all the requisites to be one of the top teams in the Big Ten along with Purdue and Michigan State, but it needs a big win to validate that sentiment. This is that opportunity. Keep an eye on Marquette's Kam Jones, who's averaging 21.5 points, four rebounds, and four assists entering tonight's showdown in Champaign.

Providence has a big week
We'll have a much better idea of just how good this team is after the next six days. The Friars have won their first two games under first-year head coach Kim English, but their next three opponents operate in a different weight class. Providence (2-0) will host Wisconsin (1-1) tonight as part of the Gavitt Games and then will play Kansas State (1-1) on Friday in the first round of the Baha Mar Bahamas Hoops Championship. The Friars will then face either Miami (2-0) or Georgia (1-1) on Sunday. It will be interesting to see how this team performs against higher level competition for the first time under English.
On The Side
Michigan lost Hunter Dickinson to Kansas and two top-15 picks — Jett Howard and Kobe Bufkin — from last season's team that missed the NCAA Tournament. The Wolverines are now 3-0 after Monday night's 16-point win at St. John's and are one of the biggest surprises of the 2023-24 season. Anarchy? Nope. Just college basketball.
Miami's Wooga Poplar is now 14-of-20 from three-point range this season. That's 70 percent for those of you who are keeping score at home!
Both Creighton and Iowa are averaging 97 points or more entering tonight's matchup in Omaha. This is the underrated game in this evening's loaded slate.
Indiana freshman Mackenzie Mgbako only has a combined six points and five rebounds in his first two games. A five-star prospect, Mgbako initially committed to Duke before opting to play for the Hoosiers.
Syracuse will try and snap its two-game losing streak against Colgate tonight at the JMA Wireless Dome. Both of the Raiders' wins over the Orange during the past two seasons have come by double figures. This will be the Orange's first real test under Adrian Autry.
Daily Specials
Duke/Michigan State (Champions Classic)
Kansas/Kentucky (Champions Classic)
Wisconsin at Providence (Gavitt Games)
Marquette at Illinois (Gavitt Games)
Iowa at Creighton (Gavitt Games)
Leftovers