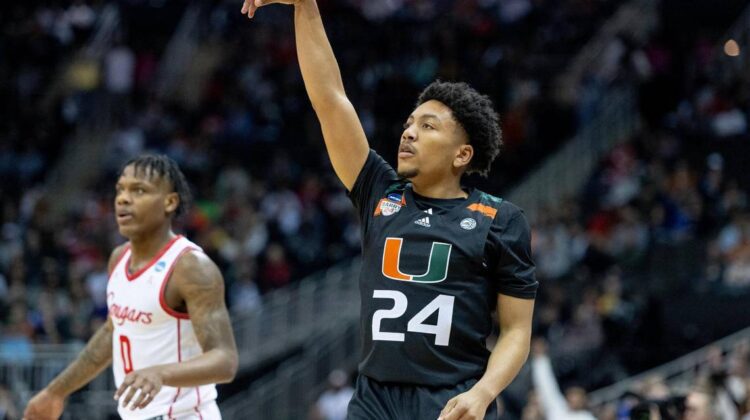 Who's hungry for college basketball?
Here's today's installment of "The Breakfast Buffet", a daily column that can be found here every single morning getting you caught up to date on everything that's happened from the day/night before and everything that's going to happen in the next 24 hours.
Mangia!
Things To Sample
Nijel Pack meets his old team
Long before Pack was a starter on a Final Four team last season at Miami, he spent two years at Kansas State prior to transferring in 2022. The two teams meet head-to-head today in the finals of the Baha Mar Bahamas Hoops Championship (2:30 PM ET, CBS Sports Network). The 6-3 Pack enters today's game averaging 13 points, but he's only shooting 25 percent from three-point range. Pack has never shot less than 40.4 percent from long distance during the first three years of his college career. The Hurricanes will take a perfect 4-0 record into today's tilt while the Wildcats are 3-1.

UConn/Indiana
The Huskies will play their first of four regular season games at MSG today when they face the Hoosiers in the first round of the Empire Classic. Texas and Louisville will also play today in the other first round game of the event with the winners and losers meeting on Monday. It's the first time this season that both UConn (3-0) and Indiana (3-0) will meet a power conference opponent. The Hoosiers have struggled out of the gate, winning their first three games against mid-major opponents by an average of just 7.7 points. This is the first major showcase game of the season for UConn sophomore center Donovan Clingan, who enters today's matchup averaging 15 points, 6.7 rebounds, and 2.7 blocks in just 18 minutes.

Dayton is playing for a chance at an at-large bid against Houston
Is that hyperbole for mid-November? Maybe a little, but in essence it's the utmost truth. The Flyers' game tonight against the Cougars in the finals of the Charleston Classic is the best opportunity that they'll have for the rest of the season to earn a marquee win. The only other power conference opponent that Dayton has remaining on its non-conference schedule is Cincinnati, who was picked 11th in the Big 12 Preseason Poll. The Flyers already have two power conference wins on their resume thanks to back-to-back victories over both LSU and St. John's, with their only loss coming last week at Northwestern. Dayton has the chance to build an at-large resume for the 2024 NCAA Tournament with a win today against one of the best programs in the sport. It's huge for the Flyers and even moreso for the Atlantic 10, who only had one team — VCU — reach last season's NCAA Tournament.
On The Side
Arizona's Caleb Love has 11 assists to just two turnovers in his last two games. A transfer from North Carolina, Love has committed eight turnovers this season, with six of those occurring when the Wildcats played at Duke on Nov. 10th.
Eight of Memphis' next nine games will be against power conference opponents. The one that isn't? A road tilt at VCU on Dec. 6th.
St. John's Joel Soriano (17.3 points, 10.3 rebounds) did not attempt a three-point shot during his first four years of college basketball. In four games this season, he's 4-4 from long distance. The Red Storm will face Utah (3-1) later today in the consolation bracket of the Charleston Classic.
The sleeper game of the day in college basketball is Boise State's trip to Clemson (3-0). This is the beginning of a key stretch for the Broncos, who will also play three games in the ESPN Events Invitational in Orlando next week starting with Thursday's opening round game against Virginia Tech (2-1).
Colorado's KJ Simpson (19 points, 5.7 assists, four rebounds) is shooting 50 percent from three-point range. He's never shot better than 27.6 percent from long distance during the first two years of his college career.
Daily Specials
UConn/Indiana (MSG)
Miami/Kansas State (Baha Mar)
Houston/Dayton (Charleston Classic)
Saint Mary's/Xavier (Las Vegas)
San Diego State/Washington (Las Vegas)
Leftovers