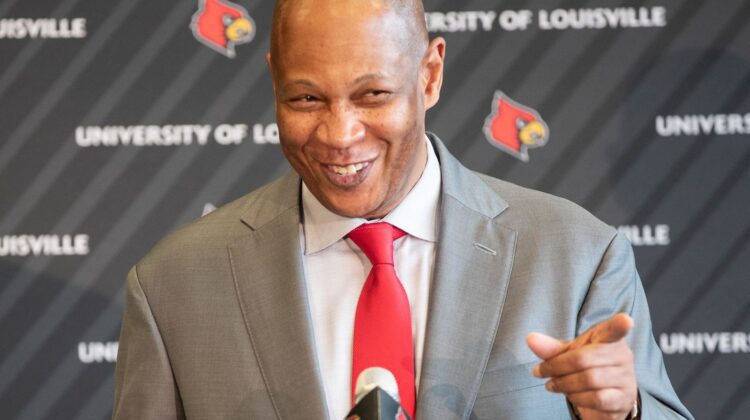 Who's hungry for college basketball?
Here's today's installment of "The Breakfast Buffet", a daily column that can be found here every single morning getting you caught up to date on everything that's happened from the day/night before and everything that's going to happen in the next 24 hours.
Mangia!
Things To Sample
Louisville has a brutal opener against Bellarmine
Let's get this out of the way really quick: This is awful scheduling. No, let me change that — this is abominable scheduling. Forget about the fact for a second that Louisville went 1-1 in two exhibitions against two Division II teams in the preseason. Also, forget about the fact that this is without question the least talented roster that Louisville has had in years. The fact that the Cardinals opted to schedule Bellarmine — a respected mid-major program that has posted a combined 34-21 record over the past two seasons since it has transitioned to Division I — is simply unfathomable. Those that know understand that Bellarmine head coach Scott Davenport — who was once a Louisville assistant under Rick Pitino — runs an intricate style that is very difficult to prepare for. Add that to all of the variables listed above and it makes for one tough opener for Payne as he aims to lead his alma mater back to respectability.

Jaylen Clark is on the verge of stardom for UCLA
That may feel like a premature statement to some based off one game, but it's not premature if you've studied how Clark produced a year ago when he logged extended minutes. In the nine games last season that Clark logged 20 minutes or more, he averaged 11.4 points and 5.6 rebounds. In Monday's opener against Sacramento State, the 6-5 junior scored 17 points, grabbed eight rebounds, and had seven steals in 29 minutes as a member of the Bruins' starting lineup. Clark is cut from the same cloth as some of the tough, hard nosed players that Mick Cronin coached when he was at Cincinnati. Buy stock now.

Kansas may not be traditional Kansas
The last time that the Jayhawks played a game without both Udoka Azubuike and David McCormack in their program? A 2016 Elite Eight loss to Villanova. The combination of Azubuike and McCormack gave Kansas a stabilizing force in the low post and an anchor around the rim on both sides of the floor. This current team doesn't seem to have that yet. The Jayhawks started 6-7 sophomore K.J. Adams at center on Monday night against Omaha; Adams also had a major hand in last week's comeback win over Pittsburg State in an exhibition game. Will Kansas opt to eventually go traditional in the pivot as it always has in the past? That would be the preference, but either Zach Clemence or freshmen Ernest Udeh and Zuby Ejiofor need to separate themselves at center. Keep an eye on Adams, who had four points and nine rebounds — including eight offensive rebounds — in 29 minutes against Omaha.
On The Side
Something to monitor: North Carolina was just 2-10 from three-point range in Monday night's opener against UNCW. The Tar Heels averaged 9.2 made three-point shots in six games during last season's NCAA Tournament.
Indiana State transfer Tyreke Key has displayed early that he has the requisites to be a key piece for Tennessee. The veteran guard had 17 points and was 4-8 from three-point range in Monday's win over Tennessee Tech. Key also had 26 points a few weeks ago in a Charity Exhibition against Gonzaga. Remember the name.
Arizona had 30 assists on 38 made field goals in its opener against Nicholls. The Wildcats led the nation in assists last season in their first year under Tommy Lloyd.
Temple (0-1) didn't do itself any favors by losing its opener to Wagner. Here are the Owls' next five games: Villanova, Vanderbilt, Rutgers (Mohegan Sun), St. John's (Barclays Center), Syracuse/Richmond (Barclays Center).
Can Florida Gulf Coast sweep the West Coast? Just two days after the Eagles beat USC by 13 at the Galen Center, Pat Chambers' squad will visit Steve Lavin and San Diego tonight in Southern California. The Toreros opened their season on Monday with a win over Sonoma State (Division II).
Daily Specials
Monmouth at Seton Hall
South Dakota State at Boise State
Bellarmine at Louisville
Florida Gulf Coast at San Diego
Leftovers