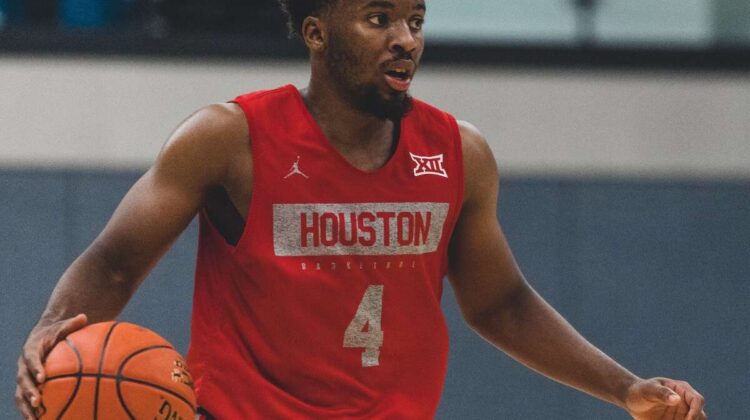 Who's hungry for college basketball?
Here's today's installment of "The Breakfast Buffet", a daily column that can be found here every single morning getting you caught up to date on everything that's happened from the day/night before and everything that's going to happen in the next 24 hours.
Mangia!
Things To Sample
LJ Cryer is starting to get into a rhythm for Houston
It's taken him a couple of games, but Cryer — a transfer from Baylor — is beginning to hit his stride for the Cougars. After going 3-16 from three-point range in the first two games of the year, the veteran guard has settled in. The 6-1 Cryer is averaging 17.7 points in his last three games all while extending the defense with regularity, going 10-22 from three-point range during that span. This is a potential All-American to monitor throughout the course of the season. Houston (5-0) will next play Dayton (3-1) on Sunday in the finals of the Charleston Classic.
Solomon Ball now becomes a critical piece for UConn
Dan Hurley told reporters on Friday that star freshman Stephon Castle (14.5 points, 6.5 rebounds, 3.5 assists) will miss "some time" due to a knee injury although it does not appear to be season ending after an MRI. This immediately throws Ball into the spotlight. The 6-3 lefty — who started in place of Castle in Tuesday's win over Mississippi Valley State — now becomes a key piece for the Huskies, who already had major concerns regarding their depth. A natural scorer, Ball is averaging 6.3 points entering UConn's game on Sunday against Indiana in the first round of the Empire Classic at MSG. His production will now be a major part of the Huskies' ceiling moving forward until Castle returns to the lineup.

Mississippi State's newcomers have had a major impact
The Bulldogs' top three scorers entering today's game against Washington State in the first round of the Hall of Fame Tip-Off at Mohegan Sun — Trey Fort (13.7 points), Josh Hubbard (13.3 points), and Jimmy Bell (11.3 points, 11.7 rebounds) — were not a part of the Bulldogs' program a year ago. Where would Mississippi State (3-0) be without them? Chris Jans' squad is averaging 79.7 points through three games; it averaged 65.9 points last season. Remember: The Bulldogs are playing without all-conference big man Tolu Smith (15.7 points, 8.5 rebounds), who is expected to be out until January due to a foot injury.
On The Side
How long is John Calipari going to be able to keep Reed Sheppard out of Kentucky's starting lineup? The 6-3 freshman is 12-17 from three-point range this season and has 11 assists to just four turnovers. Sheppard had 25 points and seven assists in Friday night's win over Stonehill.
Maryland is shooting 36.6 percent from the field and 21.6 percent from three-point range. The Terps' 40-point effort in Friday night's 17-point loss at Villanova was their lowest scoring output since 1982. Yikes!
St. John's is giving up an average of 75.6 points in its first four games. Think Rick Pitino is going to be working on defense over the next few weeks? The Red Storm are 2-2 and will next face Utah (3-1) on Sunday in the consolation bracket of the Charleston Classic.
Nebraska is 4-0 and off to its best start ever under Fred Hoiberg. The Huskers have won nine of their last 11 games dating back to last season. Nebraska will face Oregon State this afternoon at the Sanford Pentagon (3-0).
Today's game between Northwestern (3-0) and Rhode Island (3-0) in the Hall of Fame Tip-Off at Mohegan Sun is the first national showcase game for Rams' guard Jaden House. A transfer from High Point, the 6-4 House is averaging 20.7 points while shooting 65.7 percent from the field and 60 percent from three-point range.
Daily Specials
Mississippi State/Washington State (Mohegan Sun)
Northwestern/Rhode Island (Mohegan Sun)
Princeton at Monmouth
Nebraska/Oregon State (Sanford Pentagon)
Yale/Weber State (Canada)
Leftovers