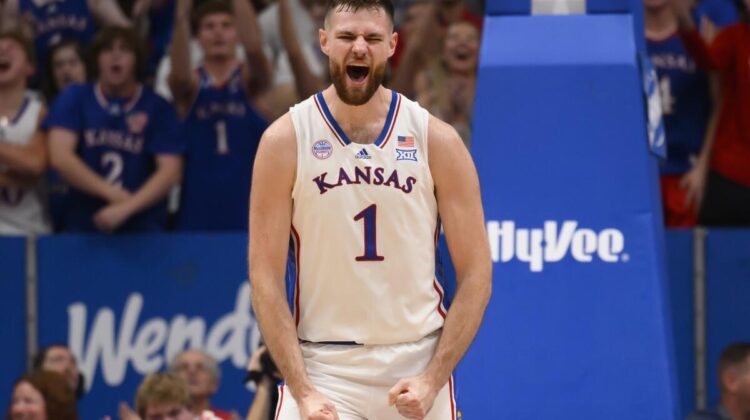 Who's hungry for college basketball?
Here's today's installment of "The Breakfast Buffet", a daily column that can be found here every single morning getting you caught up to date on everything that's happened from the day/night before and everything that's going to happen in the next 24 hours.
Mangia!
Things To Sample
Hunter Dickinson reiterated why he's a National Player of the Year candidate
Dickinson delivered in his first big game in a Kansas uniform, tallying 27 points and 21 rebounds in the Jayhawks' 89-84 win over Kentucky on Tuesday night in the Champions Classic. Dickinson was also 10-11 from the free throw line and 1-2 from three-point range. It's going to be hard for someone to unseat Purdue's Zach Edey for National Player of the Year honors this season, but Dickinson is at the top of the list of potential challengers. Kansas' limited depth is only going to enhance this guy's potential usage. The Jayhawks' starters had 85 of their 89 points against Kentucky.

Kentucky looked the part
Six of the eight players that played for the Wildcats against Kansas were in their first ever showcase game in a Kentucky uniform. The final margin of defeat was only five points and that happened with the Wildcats' two most highly touted freshmen — D.J. Wagner and Justin Edwards — combining to shoot just 1-18 from the field. There's a lot of reasons to be optimistic about John Calipari's team, especially on the perimeter. Wagner, Edwards, Robert Dillingham (18 points), Reed Sheppard (13 points), and Antonio Reeves (24 points) have the requisites to give Calipari his best crop of guards since he had Ashton Hagans, Immanuel Quickley, and Tyrese Maxey during the 2019-20 season.

Caleb Foster adds a different dimension for Duke
Adding quality spacing around Kyle Filipowski is a massive priority for the Blue Devils if they're going to reach their potential this season. We saw flashes of that in Tuesday night's 74-65 win over Michigan State in Chicago. That's because of Foster. The 6-5 freshman scored a career-high 18 points and was 4-5 from three-point range. Foster did not score in last Friday's loss to Arizona, but had 15 points in the opener against Dartmouth. He's now 5-8 from three-point range this season. Foster is a key piece to monitor moving forward for Duke (2-1), who will play its next three games at Cameron Indoor Stadium starting before traveling to Arkansas for the ACC/SEC Challenge on Nov. 29th.
On The Side
Michigan State (1-2) desperately needs more offense out of A.J. Hoggard. Through three games, the 6-4 point guard is averaging just five points while shooting 5-26 from the field and 0-5 from three-point range. Hoggard averaged 12.9 points last season.
Texas A&M's Henry Coleman has posted back-to-back double-doubles, tallying a combined 33 points and 26 rebounds in his last two games.
Kansas State's Arthur Kaluma (knee) is expected to play in Friday's game against Providence in the first round of the Baha Mar Bahamas Hoops Championship, Jerome Tang told College Hoops Today on Tuesday. The 6-7 Kaluma — who's currently averaging nine rebounds and eight rebounds — did not play in Tuesday night's win over South Dakota State.
Virginia is expected to be the fourth team in the 2024 Baha Mar Bahamas Hoops Championship. College Hoops Today previously reported that St. John's, Baylor, and Tennessee are also in the event. This will be one of the elite early-season tournaments of the 2024-25 season.
Fairleigh Dickinson will host St. Peter's tonight in the "Battle of the Bracket Busters". Both programs have gained recent fame thanks to a pair of massive upsets in the past two NCAA Tournaments. The game is the first installment of the Knights' new multi-game package with the YES Network, which is something unfathomable for a program in the Northeast Conference.
Daily Specials
Princeton at Duquesne
Richmond at Boston College
Georgetown at Rutgers
Rice at Texas
LIU at UCLA
Leftovers