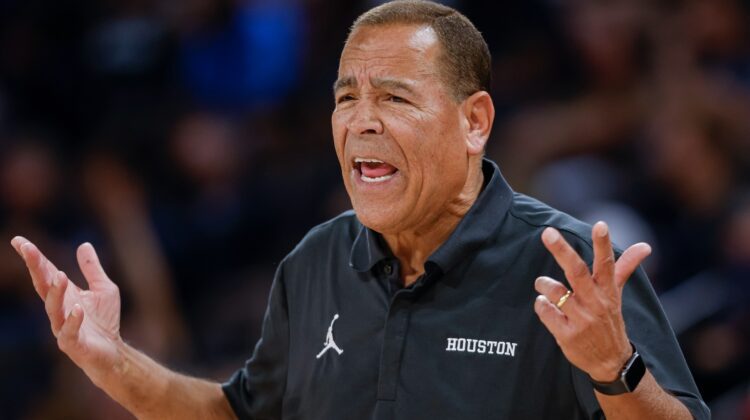 Who's hungry for college basketball?
Here's today's installment of "The Breakfast Buffet", a daily column that can be found here every single morning getting you caught up to date on everything that's happened from the day/night before and everything that's going to happen in the next 24 hours.
Mangia!
Things To Sample
Houston's perimeter enters the national spotlight
Is this the deepest group of guards that the Cougars have had under Kelvin Sampson? We'll have a better idea after the next few days at the Charleston Classic. After three wins to open the season by an average of 38.7 points, Houston will play in its first showcase games of the season over the next few days, starting with tonight's matchup against Towson. Wake Forest, Utah, St. John's, Dayton, LSU, and North Texas are also in the field. This tournament could serve as a launch for the Cougars' perimeter, which currently features three players — LJ Cryer, Damian Dunn, and Emanuel Sharp — who are averaging 12.7 points or more. That troika doesn't include veteran guards Jamal Shead, Terrance Arceneaux, Ramon Walker, and Mylik Wilson, who are all averaging double figure minutes so far this season. Houston legitimately has seven different players that it can play on the perimeter.

Auburn hits Brooklyn
The Legends Classic gets going tonight at the Barclays Center and the Tigers are the marquee team in the event. Bruce Pearl's squad will play Notre Dame in the first round of the Legends Classic and then face the winner/loser of Oklahoma State/St. Bonaventure tomorrow in Brooklyn. Auburn is the only team in the Legends Classic that's currently ranked in the ROTHSTEIN 45. The Tigers enter tonight's matchup with Irish shooting 39.2 percent from three-point range as a team after shooting just 31.4 percent from long distance a year ago.
Jaedon LeDee has made a major jump for San Diego State
Many people expected LeDee to take a significant jump for the Aztecs following the losses of both Matt Bradley and Nathan Mensah. So far, he may be surpassing expectations. Through three games, the 6-9 big man is averaging 25 points and 9.3 rebounds while shooting 62.5 percent from the field. Those are Mountain West Player of the Year and All-American caliber numbers. LeDee averaged 7.9 points and 5.3 rebounds last season. While he's playing significantly more than a year ago — approximately 15 minutes more per game — there's no denying the overall production level. This is ONLY November.
On The Side
Kansas' depth is still a major long-term concern. In Tuesday night's win over Kentucky, the Jayhawks' reserves combined to shoot 1-9 from the field and finished with just four points and six rebounds. This team can't lose anybody to an illness or a twisted ankle.
Gonzaga's Braden Huff is a name to watch entering next week's Maui Invitational. The 6-10 big man redshirted last season, but is quickly making a name for himself in Spokane. Huff is currently leading the Bulldogs in scoring (21.0) and is second in rebounding (7.5). Gonzaga will open the Maui Invitational on Monday against Purdue.
Another big thing to remember about St. John's? The Red Storm are still playing without UMass transfer RJ Luis, who's expected to return in the next few weeks from a hand injury and immediately step in as this team's starting small forward. The 6-7 wing averaged 11.5 points and 4.6 rebounds last season.
Iowa State freshman Milan Momcilovic is 10-16 from three-point range in the Cyclones' first three games. The 6-8 forward is currently leading Iowa State in scoring, averaging 15.3 points. T.J. Otzelberger's squad will host Grambling on Sunday before opening the ESPN Events Invitational on Thanksgiving Day against VCU.
Herb Sendek doesn't have a first-round pick like he's had the past two years with Jalen Williams and Brandin Podziemski, but that doesn't mean that Santa Clara isn't going to be a good team again this season. The Broncos improved to 3-0 with a double-digit win on Tuesday night at Stanford and will play Oregon and either Alabama or Ohio State next week in the Emerald Coast Classic.
Daily Specials
St. John's/North Texas (Charleston Classic)
Oklahoma State/St. Bonaventure (Legends Classic)
Auburn/Notre Dame (Legends Classic)
Missouri at Minnesota
Utah/Wake Forest (Charleston Classic)
Leftovers