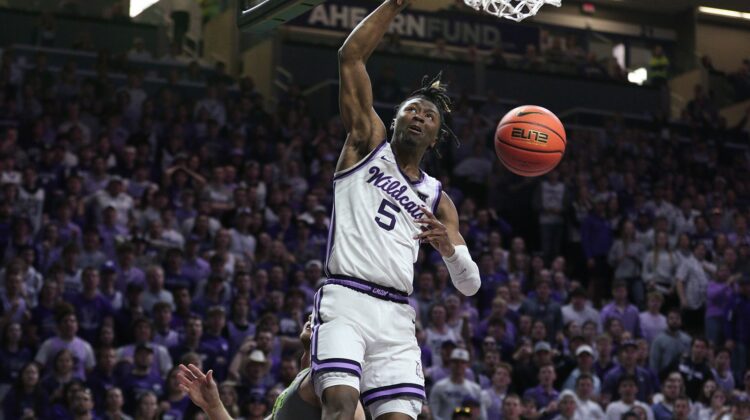 Who's hungry for college basketball?
Here's today's installment of "The Breakfast Buffet", a daily column that can be found here every single morning getting you caught up to date on everything that's happened from the day/night before and everything that's going to happen in the next 24 hours.
Mangia!
Things To Sample
Cam Carter has all sorts of momentum for Kansas State
The Wildcats' matchup today against Providence (3-0) in the first round of the Baha Mar Bahamas Hoops Championship (6 PM ET, CBS Sports Network) feels like a game on the first Thursday or Friday of the NCAA Tournament. It also features one of college basketball's early breakout stars in Carter. After averaging 6.5 points a year ago when Kansas State (2-1) advanced to the Elite Eight, the 6-3 junior has taken a massive step forward so far this season. Through the Wildcats' first three games, Carter is averaging 19 points, 3.7 rebounds, and 3.3 assists all while forming a potent backcourt combination alongside Tylor Perry (20.7 points, five rebounds).

The Continental Tire Main Event
If you're on the East Coast, you'll want to plan on staying up extra late tonight to sample this underrated early season tournament. Saint Mary's (2-1) takes on San Diego State (2-1) in one first round matchup while Washington (2-1) takes on Xavier (2-1) in another. Three of those four teams are currently ranked in the ROTHSTEIN 45. Nothing is guaranteed in college basketball, but every win in this event over the next few days should translate to a Quad 1 or 2 victory later in the the season.

Maryland/Villanova
Desperate times call for desperate measures and both of these teams are desperate entering tonight's tilt at Finneran Pavilion. The Terps are 1-2 after back-to-back losses last weekend against Davidson and UAB in Asheville, mostly in part to an offense that has been simply anemic out of the gate. Maryland is currently shooting just 40.5 percent from the field as a team and 22.6 percent from three-point range. It also has 29 assists to 43 turnovers as a team in its first three games. And Villanova (2-1)? The Wildcats were shocked on Monday against Penn at The Palestra, but have no time to lick their wounds. After tonight's game against Maryland, Villanova will play three games in the Battle 4 Atlantis, starting with Wednesday's first-round matchup against Texas Tech. The Wildcats need to win tonight to avoid going to the Bahamas with a .500 record.
On The Side
Texas' Ithiel Horton is one of college basketball's most underrated transfers. The 6-5 guard is currently leading the Longhorns in scoring (14.7 points) along with Max Abmas (14.7 points) and shooting a blistering 60 percent from three-point range. Horton played last season at UCF. Rodney Terry's squad is 3-0 and will next face Louisville (2-1) in the first round of the Empire Classic on Sunday at MSG.
Kentucky's next five games will be at Rupp Arena, starting with tonight's matchup against Stonehill. The Wildcats won't play a road game until they face Penn on Dec. 9th at the Wells Fargo Center.
UCLA (3-0) has made just seven three-point shots in its first three games. The rubber is going to meet the road for the Bruins on Monday against Marquette in the first round of the Maui Invitational.
The most impressive part of Princeton's 3-0 start? The Tigers lost Tosan Evbuomwan to the NBA and Ryan Langborg to Northwestern following last season's run to the Sweet 16 and haven't had any drop off.
UC Riverside transfer Zyon Pullin (18.3 points, 4.4 rebounds, 4.2 assists) will make his season debut for Florida (2-1) today against Florida State (2-0) after an NCAA rule prohibited him from playing in the first three games of the year after he participated in the Portsmouth Invitational. This is the start of a big four-game stretch for the Gators who will play Pitt next week in the Postseason NIT followed by a matchup with the winner/loser of Baylor/Oregon State. Florida will then travel to Wake Forest on Nov. 29th in the ACC/SEC Challenge.
Daily Specials
Miami/Georgia (Baha Mar)
Kansas State/Providence (Baha Mar)
Maryland at Villanova (Gavitt Games)
Saint Mary's/San Diego State (Las Vegas)
Washington/Xavier (Las Vegas)
Leftovers