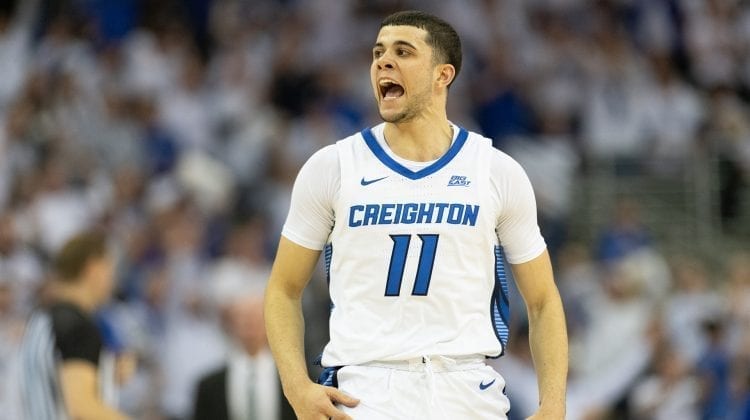 It's conference preview time!
Over the next few months, we'll break down one league every week, featuring key questions, preseason power rankings, preseason awards, and more.
This week's focus is on the Big East.
Check below for a comprehensive breakdown of the league:
Five Key Questions entering the Big East
1. Can Villanova win a national title for the third time in the last five NCAA Tournaments?
It all depends on the development of its bench. The Wildcats' top five scorers last season — Saddiq Bey, Collin Gillespie, Justin Moore, Jermaine Samuels, and Jeremiah Robinson-Earl — averaged in double-figures, but only one other player on Villanova's roster — Cole Swider — averaged more than 1.6 points. Jay Wright needs tangible contributions from Swider, Brandon Slater, Dhamir Cosby-Roundtree, redshirt freshman Eric Dixon, and Bryan Antoine — who was never truly healthy last season due to a shoulder injury — if the Wildcats are going to have a chance to win another national title. Villanova won't be the same team that it would have been if Bey returned to school for his junior season instead of heading to the NBA, but they still have plenty of reinforcements. Gillespie and Robinson-Earl are both potential All-Americans while Moore is on the verge of becoming a national star as a sophomore. Samuels is a veteran that has been through the gamut and Tulane transfer Caleb Daniels should be able to make an impact with his offense and shot making ability. The Wildcats have the best culture in college basketball and haven't lost a 50/50 play in six or seven years. If Villanova's bench production improves, its ceiling will be as high as any team in the sport.
2. How big of an impact will UConn have on the Big East?
A significant one. No program in college basketball has won more national titles since 1999 than the Huskies, who have cut down the nets four times during the last 21 years. Dan Hurley won't be expected to make the Final Four during his third season in Storrs after spending the last two years in the American Conference, but it's clear that the Huskies' program is starting to regain some of the sizzle that it had under Jim Calhoun in the 1990s and early 2000s. Sophomore guard James Bouknight should be one of the best players in the Big East next season while 6-6 freshman Andre Jackson was a consensus top-50 recruit with major upside. Hurley also already has commitments from three top 100 prospects in the 2021 class. After winning 19 games a year ago, expect UConn to return to the NCAA Tournament next spring for the first time since 2016.
3. Which Big East team avoided a tense Selection Sunday last March?
Xavier. The Musketeers looked like they were safely going to reach the field of 68 a little over five months ago, but an early Big East Tournament loss to DePaul put them squarely on the bubble. Less than 24 hours later, the NCAA Tournament was cancelled due to COVID-19. Xavier is a combined 38-29 in two years under Travis Steele, who succeeded Chris Mack in 2018 when Mack left for Louisville. Steele's third season is an important one. The Musketeers lost their two top players from last season's 19-13 squad in Naji Marshall and Tyrique Jones, but do return four starting caliber players in Paul Scruggs, KyKy Tandy, Jason Carter, and Zach Freemantle. Anything less than an appearance in the 2021 NCAA Tournament will be viewed as a colossal disappointment.
4. Will Seton Hall remain nationally relevant?
It depends on Bryce Aiken. The New Jersey native opted to graduate and transfer from Harvard in an effort to join Seton Hall's burgeoning program. The Pirates have had a resurrection under Kevin Willard, enjoying five straight 20-win seasons all while cementing themselves as a national force. Can Seton Hall continue its momentum after losing three key veterans like Myles Powell, Quincy McKnight, and Romaro Gill? It depends on Aiken. Willard has three proven returning pieces in Sandro Mamukelashvili, Jared Rhoden, and Myles Cale, but he needs a quality point guard to run his basketball team. A potent scorer while he was at Harvard, the 6-foot Aiken averaged 16.3 points during his time in the Ivy League, but also had a total of 174 assists to go with a total of 191 turnovers. Aiken's development as a floor general will play a major role in whether or not the Pirates will play in the 2021 NCAA Tournament.
5. Who is the sleeper?
Marquette. The Golden Eagles lost one of the best players in program history in Markus Howard as well as their second-leading scorer in Sacar Anim, but there's still enough remaining in Milwaukee to make things more than interesting. Steve Wojciechowski returns five players — Koby McEwen, Jamal Cain, Theo John, Greg Elliott, and Symir Torrence — who averaged double-figure minutes last season and all of them understand what it takes to compete in the Big East. Ohio State transfer D.J. Carton will have an immediate impact at point guard and 6-11 freshman Dawson Garcia was a consensus top-50 recruit who should be one of the top newcomers in the conference. Marquette won't be as reliant on one particular player to generate things as it was in the past with Howard. Will a more balanced attack lead to a better result than last year's 18-12 record? It's within the realm of possibility if everything aligns.
Big East Preseason First-Team
Collin Gillespie, Villanova
Marcus Zegarowski, Creighton
James Bouknight, UConn
Sandro Mamukelashvili, Seton Hall
Jeremiah Robinson-Earl, Villanova
Big East Preseason Player of the Year
Marcus Zegarowski, Creighton
Big East Preseason Power Rankings
1. Villanova
2. Creighton
3. UConn
4. Providence
5. Seton Hall
6. Xavier
7. Marquette
8. St. John's
9. Butler
10. DePaul
11. Georgetown
10 Impact Freshmen
*In no particular order
Eric Dixon, Villanova (redshirt)
Rati Andronikashvili, Creighton
Andre Jackson, UConn
Adama Sanogo, UConn
Dwon Odom, Xavier
Colby Jones, Xavier
Dawson Garcia, Marquette
Posh Alexander, St. John's
Scooby Johnson, Butler
Jamari Sibley, Georgetown
10 Impact Transfers
*In no particular order
* This does not include transfers who have pending waivers with the NCAA
Caleb Daniels, Villanova (Tulane)
Antwann Jones, Creighton (Memphis)
R.J. Cole, UConn (Howard)
Jared Bynum, Providence (St. Joe's)
Noah Horchler, Providence (North Florida)
Bryce Aiken, Seton Hall (Harvard)
Takal Molson, Seton Hall (Cansius)
D.J. Carton, Marquette (Ohio State)
Vince Cole, St. John's (JUCO)
Jalen Harris, Georgetown (Arkansas)
5 Under-The-Radar Transfers
*In no particular order
* This does not include transfers who have pending waivers with the NCAA
Nate Johnson, Xavier (Gardner Webb)
Isaih Moore, St. John's (JUCO)
Arnaldo Toro, St. John's (GW)
Jair Bolden, Butler (South Carolina)
Ray Salnave, DePaul (Monmouth)