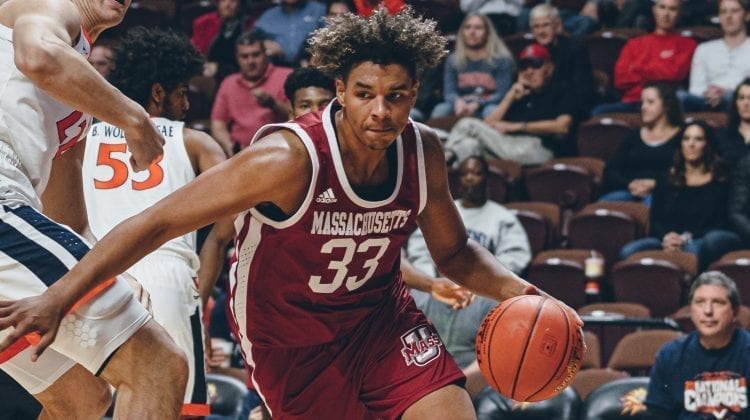 It's conference preview time!
Over the next two and a half months, we'll break down one league every week, featuring key questions, preseason power rankings, preseason awards, and more.
This week's focus is on the Atlantic 10.
Check below for a comprehensive breakdown of the conference:
Five Key Questions entering the Atlantic 10
1. How critical are non-conference games for the Atlantic 10?
Beyond critical. Prior to the cancellation of the Atlantic 10 Tournament last March, the conference only had one team — Dayton — as a lock for the field of 68 despite the fact that four other teams in the league — Richmond, Saint Louis, Rhode Island, and Duquesne — had won 21 or more games prior to the postseason. With industry speculation rampant that the 20-21 season could potentially begin in January and only feature games between league opponents, the Atlantic 10's hope for quality representation in the 2021 NCAA Tournament ultimately hinges on if key non-conference games are played in November and December. This conference needs significant non-conference opportunities as much as any league in America, as evidenced by its struggles to keep a plethora of teams in the NCAA Tournament picture over the past few years since several power conferences started shifting to 20 league games. The Atlantic 10 has not put more than three teams in the field of 68 since it went from 16 to 18 conference games prior to the start of the 2014-15 season. Prior to that, five Atlantic 10 teams qualified for the NCAA Tournament in 2013 while six teams from the conference reached the field in 2014.
2. What can Dayton do for an encore?
Compete for an Atlantic 10 regular season title and earn a bid to the 2021 NCAA Tournament. Last year's magical run for the Flyers was a once in a lifetime type season and may never again be replicated in school history, but that doesn't mean that the cupboard is completely bare either. Anthony Grant returns the league's most complete perimeter with Jalen Crutcher, Rodney Chatman, and Ibi Watson along with two serviceable front court pieces in Chase Johnson and Jordy Tshimanga. No one is expecting Dayton to go 29-2 and undefeated in conference play like it did last season, but it's well within reason to expect the Flyers to be one of the best teams in the Atlantic 10 and be in the mix for a bid to the 2021 NCAA Tournament.
3. Is Saint Louis being underrated nationally?
It certainly feels that way. The Billikens were one of the hottest teams in America at the end of last season and were set to take a five-game winning streak into the Atlantic 10 Tournament in Brooklyn before it was cancelled. Everyone is back for the Billikens, headlined by the troika of Jordan Goodwin, Hasahn French, and Javonte Perkins, a burgeoning star who averaged 18.2 points during conference play. Gibson Jimerson and Fred Thatch — two starting caliber players who only combined to play 16 games last season due to injuries — are also back. The 6-5 Jimerson shot 42.9 percent from three-point range last year in 10 games as a freshman and should immediately improve Saint Louis' offensive spacing. Remember: Travis Ford's team won 23 games last season, highlighted by two close losses by a combined eight points to Dayton. One of those defeats came on a last second shot by Jalen Crutcher at Chaifetz Arena. The Billikens have all the requisites to be the best non-power conference team in college basketball next season.
4. Which Atlantic 10 player is about to become a national star?
Tre Mitchell. The 6-9 big man was only a freshman last season, but he quickly proved that he has the talent to play anywhere in America. Gifted with soft hands and an accurate touch around the rim, Mitchell shined down the stretch, averaging 22 points and 8.9 rebounds over UMass' final 10 games while shooting an astronomical 50.8 percent from the field. Is this the most talented prospect to play in Amherst since Marcus Camby led the Minutemen to the 1996 Final Four? Quite possibly. It's not fair to expect Mitchell to do for UMass what Obi Toppin did for Dayton, but it is fair to say that Mitchell is set to emerge as far and away the top talent in the Atlantic 10. If his supporting cast improves, UMass could be in business.
5. Who is the sleeper?
Davidson. It's weird to say that about a team coached by Bob McKillop, but it's the truth. One year after the Wildcats entered a season with monster expectations, they now enter 20-21 as a bit of an afterthought after last season's 16-14 campaign. It may not stay that way for long. McKillop lost a great player in Jon Axel Gudmundsson, but returns three double-figure scorers in Kellan Grady, Luka Brajkovic, and Carter Collins. Mike Jones and Hyunjung Lee also return after both averaging over 20 minutes per contest last season, with the 6-7 Lee tallying an impressive average of 8.4 points and 3.1 rebounds as a freshman. McKillop is also bullish on 6-8 freshman Samuel Mennenga, a skilled forward who has the ability to make an immediate impact. There's enough pieces in place for McKillop — one of the sport's elite offensive coaches — to have Davidson in the Atlantic 10's top tier by next March.
Atlantic 10 Preseason Power Rankings
1. Saint Louis
2. Richmond
3. Dayton
4. St. Bonaventure
5. Duquesne
6. Rhode Island
7. Davidson
8. UMass
9. George Mason
10. VCU
11. George Washington
12. La Salle
13. Saint Joseph's
14. Fordham
Atlantic 10 Preseason Player of the Year
Tre Mitchell, UMass
Atlantic 10 Preseason First-Team
Jordan Goodwin, Saint Louis
Jacob Gilyard, Richmond
Fatts Russell, Rhode Island
Jalen Crutcher, Dayton
Tre Mitchell, UMass
5 Impact Freshmen
*In no particular order
Samuel Mennenga, Davidson
Djimon Bailey, Richmond
Adrian "Ace" Baldwin, VCU
Jamir Watkins, VCU
Javohn Garcia, UMass
5 Impact Transfers
*In no particular order
*This does include transfers who have filed for waivers with the NCAA
Connor Crabtree, Richmond (Tulane)
Jeremy Sheppard, Rhode Island (JUCO)
Dahmir Bishop, St. Joe's (Xavier)
Greg Foster Jr., St. Joe's (Gonzaga)
Clifton Moore, La Salle (Indiana)
5 Breakout Players
*In no particular order
Bones Hyland, VCU
Chase Johnson, Dayton
Antwan Walker, Rhode Island
Yuri Collins, Saint Louis
Hyunjung Lee, Davidson