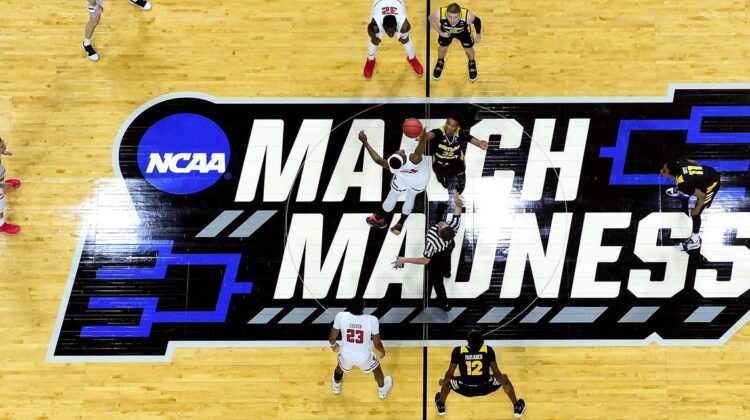 We are now just DAYS away from the start of the 2023-24 college basketball season.
Check out our list below for 68 reasons to be excited about what lies ahead over the next few months.

In no particular order:

1. A new event on Opening Day
Kudos to the Hall of Fame, who took the initiative to spice things up on the first day of the college basketball season. This new event at T-Mobile Arena in Las Vegas will feature two women's games (USC/Ohio State, Colorado/LSU) and two men's games (Oregon/Georgia, Kansas State/USC) in an effort to get the 2023-24 season going with a little pop.

2. Nov. 10th
The first Friday of the season is like a buffet for college basketball junkies. Here's some of the highlights: Arizona at Duke, Texas A&M at Ohio State, San Diego State at BYU, Memphis at Missouri, Tennessee at Wisconsin, Yale at Gonzaga, and Florida versus Virginia (Charlotte).

3. The Champions Classic
The annual blue blood doubleheader will take place on Nov. 14th in Chicago as Duke faces Michigan State and Kentucky squares off with Kansas.

4. Duke
The Blue Devils return five of their top six scorers — Kyle Filipowski, Jeremy Roach, Tyrese Proctor, Mark Mitchell, and Ryan Young — from last season's team that won the ACC Tournament and earned a five seed in the NCAA Tournament. That doesn't include an elite recruiting class, headlined by five-star prospects Jared McCain and Caleb Foster. The best roster in the sport resides in Durham.

5. Kyle Filipowski
He's not Christian Laettner, but Filipowski does have a chance to be an All-American as a sophomore for the Blue Devils. The versatile, 6-11 forward averaged 15.1 points and 8.9 rebounds last season as a freshman.

6. Arizona at Duke on Nov. 10th
It's very rare to get two programs of this caliber to engage in a true home-and-home series, but that's what will commence on the first Friday of the season at Cameron Indoor Stadium. The Blue Devils will return the game to Tucson during the 2024-25 season.

7. Hunter Dickinson
No transfer in college basketball will have a bigger impact than Dickinson, who's tailor made for Bill Self's system at Kansas. After three productive years at Michigan, the 7-2 big man should flourish in Lawrence for a team that's built to win the national title for the second time in the last three seasons.

8. Purdue's revenge tour
The sting of the Boilers' March Madness defeat to Fairleigh Dickinson can only be erased one way — with a trip to the 2024 Final Four. Remember: Purdue returns everyone of significance from last season's team that won 29 games and both the Big Ten regular season and tournament titles.

9. Zach Edey
The 7-4 big man has a legitimate chance to be the first player to win National Player of the Year honors in back-to-back seasons since Ralph Sampson did it at Virginia in the 1980s. Edey averaged 22.3 points and 12.9 rebounds last season for Purdue.

10. Tom Izzo
Eight trips to the Final Four has this Hall-of-Famer craving for a ninth. He's got the team to do it in 2024. This rendition of Spartans is very similar to the one we saw lose a heartbreaker to Kansas State in the Sweet 16 last March. That's bad news for the rest of college basketball.

11. Coen Carr
Is Carr the best athlete that that's ever played for Michigan State? He's definitely in the conversation. The 6-7 forward can put his teeth on the rim in a moment's notice and will instantly be a fan favorite in East Lansing.

12. Florida Atlantic
Everyone of significance returns from last season's 35-win team except for veteran guard Michael Forrest. That means high expectations in Boca Raton.

13. Tyler Kolek
The reigning Big East Player of the Year led Marquette to both the Big East regular season and tournament titles last season for the first time ever. Now he wants more. The best passer in college basketball, Kolek could very well lead the nation in assists in 2023-24.

14. Dan Hurley
After a brilliant coaching performance last season that saw UConn win its fifth national title since 1999, Hurley is taking aim at another. It's within his reach. The Huskies may not have what they had a year ago, but they still have enough to get to the 2024 Final Four in Arizona. UConn has never made the Final Four in back-to-back seasons.

15. Donovan Clingan
It's time. After flourishing as Adama Sanogo's backup during UConn's run to the national title last spring, the 7-3 Clingan is now primed to step into the spotlight. He averaged 5.8 points, five rebounds, and 1.8 blocks in just 12.2 minutes during the 2023 NCAA Tournament.

16. Arizona's guards
Tommy Lloyd restocked the Wildcats' roster via the transfer portal, especially on the perimeter. Caleb Love (North Carolina) and Jaden Bradley (Alabama) join returnees Kylan Boswell and Pelle Larsson in what should be an elite quartet.

17. Caleb Love
A year ago, Love had his sights set on leading North Carolina to a national title. Now? He's looking to recalibrate his career after transferring to Arizona. Keep an eye on Love — a high volume scorer — in the Wildcats' high-octane attack.

18. Tommy Lloyd
Lloyd is a combined 61-11 in his first two years as a head coach and despite a first round NCAA Tournament loss to Princeton last March, he's got Arizona rolling. The Wildcats are the Pac-12 favorites before they depart for the Big 12 in 2024.
19. The Maui Invitational
The best Maui Invitational field ever? It's possible. Five teams — Kansas, Purdue, Marquette, Tennessee, and Gonzaga — in the Top 18 of the ROTHSTEIN 45 are in the event. That doesn't include UCLA and Syracuse. Wow!

20. Wooga Poplar
With Isaiah Wong and Jordan Miller no longer in Miami's program, Jim Larranaga is counting on Poplar to pick up the slack as the Hurricanes' go-to scorer. The 6-5 Poplar averaged 12 points in Miami's first four NCAA Tournament games last spring en route to the program's first ever appearance in the Final Four.

21. The Big East
Is this conference ready to become the best league in the sport? It certainly feels that way. Three teams from the Big East — Marquette, UConn, and Creighton — are currently ranked in the Top 10 of the ROTHSTEIN 45 and four others — Villanova, St. John's, Xavier, and Providence — are ranked in the Top 39. Six or seven NCAA Tournament bids for the Big East feels within reach in 2024.
22. Rick Pitino
Arguably the best coach of this generation, the 71-year old Pitino is back at the power conference level with St. John's and he's made the Red Storm nationally relevant before ever coaching a game. If this program takes off with Pitino on the sidelines, it could instantly become one of the hottest stories in college basketball.

23. St. John's against Michigan on Nov. 13th
Pitino's first game at Madison Square Garden features a blue blood opponent with tremendous cachet. This night will be an event at the World's Most Famous Arena.

24. Houston in the Big 12
The Cougars will step up a weight class after ripping through the American Athletic Conference like a chainsaw through butter. Houston will lose more games in the Big 12 than it did in its previous league, but should still remain among the top programs in college basketball.

25. Steven Ashworth in Creighton's offense
There's not many better offensive coaches than Greg McDermott and that plays right into Ashworth's wheelhouse. The Utah State transfer made 111 three-point shots last season and should instantly be a fan favorite in Omaha.

26. Dave Pasch and Bill Walton
The final season of the Pac-12 will make college basketball's most unpredictable broadcasting duo even more of a must-watch. You'll laugh. You'll cry. You'll thank us later.
27. Eric Musselman
"The Importer" has made Arkansas an annual threat to win multiple games in the NCAA Tournament. Personnel may change in Fayetteville, but Musselman's ability does not. This guy is a hell of a coach.

28. USC's backcourt
The combination of five-star freshman Isaiah Collier and fifth-year senior Boogie Ellis is one lethal combo. That alone makes the Trojans appointment TV for the true college basketball junkie.

29. Year 2 for Kyle Neptune
Jay Wright's successor at Villanova begins his second season with high expectations. After a .500 campaign a year ago, Neptune has reloaded the Wildcats via the transfer portal and should have Villanova back in the NCAA Tournament in 2024.

30. Justin Moore
Villanova's veteran lead guard only played 13 games last season due to an achilles injury, but now he's fully healthy. Moore is a bonafide Big East Player of the Year candidate during the upcoming season.

31. Ed Cooley's return to Providence
Jan. 27th is circled in the state of Rhode Island and that's for good reason. Cooley's decision to leave the Friars for Georgetown was not popular in his home state. His return to Amica Mutual Pavilion should be filled with vitriol.

32. Max Abmas
A scoring star while he was at Oral Roberts, Abmas will now his talents to the Big 12 as he'll form a potent backcourt combination alongside Tyrese Hunter at Texas.

33. Saint Mary's
Randy Bennett's best team ever? Quite possibly. The Gaels were picked first in the WCC Preseason Poll and have a legitimate chance to get back to the second weekend of the NCAA Tournament for the first time since 2010.
34. Gonzaga post-Drew Timme
The Bulldogs haven't played a game without Timme since the 2019 NCAA Tournament, but that's what will happen this season. It will be interesting to see how Gonzaga responds after losing a guy who averaged at least 19 points and 6.8 rebounds in the past three seasons.

35. Adrian "Red" Autry
For the first time since the 1976-77 season, someone other than Jim Boeheim will be coaching Syracuse. Autry, a former point guard and assistant for the Orange, gets the call to succeed his former coach and mentor.

36. San Diego State's attempt at an encore
The greatest season in Aztecs' history happened last year when this program advanced all the way to the national title game before losing to UConn. Can it happen again? What San Diego State experienced last season feels like a once-in-a-generation type of run, but the Aztecs should still be the best team in the Mountain West in 2023-24.
37. Kentucky's freshman class
John Calipari has had many great recruiting classes during his Hall-of-Fame career, but this one feels like the best that he's had in a while. DJ Wagner and Justin Edwards headline a slew of five-star prospects that should propel the Wildcats back into the national conversation.

38. Ja'Kobe Walter
Is Baylor on the verge of having yet another one-and-done freshman? No question. One year after Keyonte George had a major role for the Bears, Walter arrives in Waco ready to take the baton on the perimeter.

39. Buzz Williams
The veteran head coach may have a dark horse candidate for the 2024 Final Four this season at Texas A&M. The Aggies return over 88 percent of their scoring from last season's team that reached the NCAA Tournament.

40. Wade Taylor IV
Texas A&M's star guard has SEC Player of the Year and All-American caliber potential. The presence of Taylor is the primary reason why the Aggies are such a trendy team to following entering the 2023-24 season.

41. Maryland home games
College Park is the Spring Break Capital of the Northeast. If you know, you know.

42. DeShawn Harris-Smith
This broad shouldered lefty may very well be the best freshman in the Big Ten. Armed with great size at 6-5, Harris-Smith should be an instant starter for Maryland in the backcourt alongside Jahmir Young.

43. Expectations for Colorado
The Buffaloes are good enough to challenge for a Pac-12 regular season title in the final year of the conference — seriously.

44. North Carolina's redemption tour
The Tar Heels returned four starters a year ago from a team that lost to Kansas in the 2022 national title game, but wound up missing the 2023 NCAA Tournament. Anything less than a quality run during March Madness will be a disappointment in Chapel Hill.

45. Elliot Cadeau
The best passing point guard that North Carolina has had since Kendall Marshall? You better believe it.

46. New Mexico aims to end its NCAA Tournament drought
The Lobos haven't heard their names called on Selection Sunday since 2014, but Richard Pitino's squad has an excellent chance to change that in 2024. Veterans Jaelen House and Jamal Mashburn Jr. headline a terrific perimeter which also features burgeoning sophomore Donovan Dent.

47. Mick Cronin
Cronin has won 73.3 percent of his games since arriving at UCLA, but his toughest task yet in Westwood may occur during the upcoming season. The Bruins lost four starters and over 80 percent of their scoring from last season's team that won 31 games and went to the Sweet 16.

48. The return of Adem Bona
The reigning Pac-12 freshman of the year looked like he was on his way to stardom during last season's March Madness before he suffered a shoulder injury in the Pac-12 Tournament. Bona averaged 7.2 points, 7.8 rebounds, and two blocks in the five games he played prior to injury. Now finally healthy, the 6-10 sophomore has All-American caliber potential in 2023-24.

50. Memphis' experience
The average age of the Tigers' projected starting five on opening night will be 22.6 years old. And that's without DeAndre Williams, who is still seeking a waiver from the NCAA for an additional year of eligibility.

51. Wisconsin
Five starters are back for the Badgers from a 20-win team that just missed the NCAA Tournament. In Madison, that smells like a potential single digit seed in the 2024 NCAA Tournament.

52. Ajay Mitchell
UC Santa Barbara's superstar point guard is the best floor general in America that not everybody knows about and is projected to be selected in the 2024 NBA Draft.

53. Bill Raftery
A better human being doesn't exist.

54. Desmond Claude
Xavier lost five starters — Souley Boum, Adam Kunkel, Colby Jones, Jerome Hunter, and Jack Nunge — from last season's Sweet 16 team, but it does return Claude and Sean Miller is bullish on his potential. The 6-6 Claude scored 11 points in an NCAA Tournament win over Pitt last March and has all-conference caliber potential as a sophomore.

55. Trey Green
People from the periphery know about Claude, but Green is also a major candidate to play a big role for Xavier's perimeter during the upcoming season. The 6-foot guard was the MVP of the Peach Jam in 2022 and will make a major impact for the Musketeers. Green will be one of the best freshmen in the Big East in 2023-24.

56. Northwestern's attempt to go back-to-back
The Wildcats have never played in the NCAA Tournament in back-to-back seasons, but that could be about to change. Four of Northwestern's top six scorers — Boo Buie, Ty Berry, Brooks Barnhizer, and Matthew Nicholson — are back from last season's squad that won 22 games and lost to UCLA in the Round of 32.

57. Standalone Games
It's a rarity in college basketball when a game is played during an isolated time window, but let's cherish these opportunities when they come. I'll say it again: College basketball NEEDS more standalone games.

58. Jerome Tang
College Hoops Today's National Coach of the Year from last season is set to begin his second season at Kansas State. Expect the Wildcats to again be an NCAA Tournament team in 2024.

59. Bryce Hopkins
Providence's star forward is noticeably leaner than he was last season and should push for Big East Player of the Year and All-American honors under first-year head coach Kim English.

60. The Mountain West
Can this league get four teams into the NCAA Tournament for the third consecutive season? Don't rule it out of the realm of possibility.

61. UNLV
The Runnin Rebels haven't heard their name called on Selection Sunday since 2013, but should have their best roster in years thanks to the addition of five-star freshman Dedan Thomas.

62. John Becker
Under Becker, Vermont has won at least a share of seven consecutive America East regular season titles. The only other program to achieve that in its respective league is Gonzaga.

63. Mid-Major Conference Tournaments
The gap between the "haves and have nots" grows every single day in college sports. That means that the pressure on favorites in mid-major conferences will be even more immense in March of 2024.
64. Illinois' positional size
The Illini may start four players — Ty Rodgers, Terrence Shannon Jr., Luke Goode, and Southern Illinois transfer Marcus Domask — who stand 6-6 or taller.

65. Tennessee
The Vols have averaged 24 wins over the last six seasons under Rick Barnes, but have not advanced past the Sweet 16 during that time. Don't be shocked if that changes in 2024.
66. The CBS Sports Classic
This year's event will take place in Atlanta on Dec. 16th and features a terrific doubleheader of Ohio State/UCLA and Kentucky/North Carolina.

67. VCU home games at the Siegel Center
They're more life altering than a 10-day trip to Europe. If you know, you know.

68. UConn's trip to Kansas on Dec. 1st
The last two national champions will trade blows at Allen Fieldhouse in this season's Big East-Big 12 Battle. If you're not excited for this matchup then you officially hate fun.
Leftovers