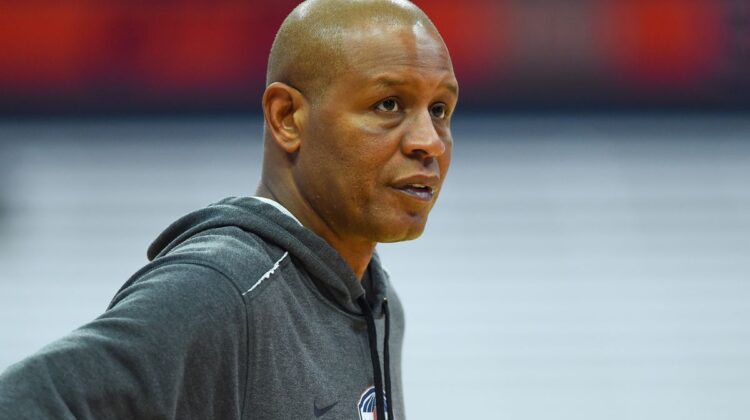 Adrian Autry is now the face of Syracuse's basketball program. After returning to his alma mater as an assistant in 2011, the 51-year old Autry was officially hired as Jim Boeheim's replacement last March. I caught up with Autry on Thursday in Syracuse to discuss his first season as a head coach, Judah Mintz, and much more.
Jon Rothstein: What was it like waking up this week and realizing that practice was starting and you're now the head coach at Syracuse?

Adrian Autry: I think I got a little bit of a head start because of the time that you have to work with your team. I had six weeks in the summer time and then obviously in September, you get some hours. I think now that we're in it every day — it's very exciting. We have a good group and they know me. It's all very exciting.

Rothstein: Which of the returning players made the biggest jump since the end of last season?
Autry: I think they all have. Obviously, Judah (Mintz) has come back and he's better. He's just a better player. He's confident and he knows what's going on. He's shooting the ball much better. Benny (Williams) has kind of picked up where he left off at the end of last season. I don't think people really understand — I think he averaged like 17 and 10 the last five games of the season or around there. That's where he's kind of picked things up. I think Chris Bell and Maliq (Brown) are both better. Maliq has added some weight and his game is really starting to round out a bit. I think that whole crew has gotten better. It's valuable that they got the chance to play last season as freshmen. Justin Taylor has also been very solid. That group has all gotten better.
Rothstein: You mentioned Judah Mintz, who went through the NBA Draft process last spring. He's back, but now he's going to play with another ball handling point guard in Notre Dame transfer JJ Starling. How does that change things for Judah?

Autry: I think he doesn't have to shoulder the role of being the primary ball handler. I think last year that was an adjustment for him. The way we played, Coach Boeheim wanted the ball in his hands. Now, we have multiple ball handlers so I think that eases the pressure on Judah. I think they're playing together well. It also gives Judah a chance to move off the ball and be dynamic in that area as well. I think JJ is the perfect complement to Judah and I think you'll see Judah's playmaking ability increase because he doesn't have to handle the ball all the time so he'll be fresher.

Rothstein: Syracuse fans have been used to 40 years of zone defense. How much of the 2-3 zone will you play during the upcoming season?
Autry: I think our primary defense will be man-to-man. I've said that and there's no secret about that. We will play zone, but it depends on the situation and the game. We won't play 40 minutes of zone though — man-to-man will be our primary defense.
Rothstein: Syracuse is a combined 33-32 over the last two years and this program hasn't played in the NCAA Tournament since 2021. Why will this team be better than the last two after losing both Joe Girard (Clemson) and Jesse Edwards (West Virginia) to the transfer portal?
Autry: I think experience. I think we probably have one of the most talented rosters that we've had in a while in terms of 1-10. Depending on the situation, we can play nine or 10 guys. I think our depth is a major factor and with what we went through the last couple of years — the guys here were a part of that. I think we've got a very motivated group and I think all of the guys that transferred in bring something. Chance Westry (Auburn) is high level. Kyle Cuffe was at Kansas, but didn't really play and Naheem (McLeod) was at Florida State and played a little, but not a lot. All of those guys complement this group. You'll see a very vibrant group, a very active group. I think the experience and our depth will be the difference for us this year.
Leftovers