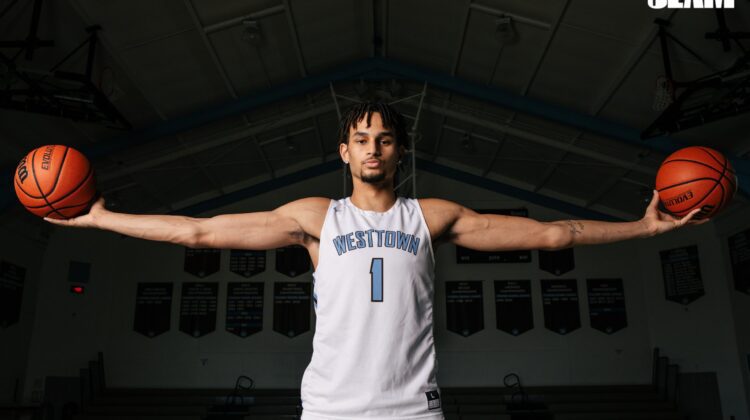 It's never too early to start looking ahead to next season!
Check below for our list of 30 impact freshmen for the 2022-23 college basketball season.
In no particular order:
Dereck Lively II, Duke: This Pennsylvania native is the primary reason why Duke has a chance to be an elite defensive team in its first year under Jon Scheyer. The 7-1 Lively — who is projected to be one of the top picks in the 2023 NBA Draft — will alter the way opposing offenses look to score thanks to his rim protection and ability to alter shots.
Dariq Whitehead, Duke: Whitehead is currently out indefinitely with a foot injury, but when he returns, he'll be one of the best players in the sport. How good is this 6-6 freshman? Prior to injury, he was the favorite to lead the Blue Devils in scoring during the 2022-23 season. This kid is the real deal. 
Kyle Filipowski, Duke: Filipowski is one of the more unique prospects in this year's freshman class as he possesses elite size, skill, and power. While he physically looks like a true center at 6-11 and 230 pounds, Filipowski is more than comfortable initiating offense in the half-court and facilitating opportunities for his teammates. He'll form a potent power forward-center combination for the Blue Devils alongside Lively.

Mark Mitchell, Duke: This Kansas native is yet another five-star prospect in Duke's recruiting class. The 6-8 Mitchell is a prototypical combo forward and possesses tremendous explosiveness. Mitchell will give the Blue Devils a different look at power forward when either Lively or Filipowski is out of the game.
Dillon Mitchell, Texas: Long and lanky at 6-7, Mitchell has the type of basketball body that Norman Rockwell would have painted. A terrific passer with superb vision and a sensational IQ, Mitchell has an innate way to flourish in all areas of the box score. Expect him to become a lockdown defender this season under Chris Beard.
Amari Bailey, UCLA: Several talent evaluators have compared Bailey to current Minnesota Timberwolves guard D'Angelo Russell, who played one season at Ohio State. Smooth, shifty, and an elite athlete, this 6-5 lefty can take over a game offensively and also excel at creating for others. This may very well wind up as the best guard that's ever played for Mick Cronin.
Adem Bona, UCLA: The 6-9 Bona plays with force and authority on both sides of the ball, operating with a motor that never seems to run out of gas. A consensus five-star prospect, Bona averaged 17 points, 10.9 rebounds, and 2.4 blocks this past summer at the FIBA U20 in Europe. Think another Bam Adebayo.
Nick Smith, Arkansas: How talented is Smith? There's a strong chance that he'll be the top college player selected in the 2023 NBA Draft. Pencil in this 6-4 guard as a potential All-American for the 2022-23 season.
Anthony Black, Arkansas: Black has yet to play a game for Arkansas, but that didn't stop Eric Musselman from raving about him over the summer. If Arkansas advances to its third straight Elite Eight or beyond, the stewardship of the 6-7 Black will be a major reason why.
Jordan Walsh, Arkansas: Walsh isn't getting the same amount of attention as Smith and Black, but he's going to be a huge part of what the Razorbacks do this season. Blessed with great versatility at 6-7, Walsh can guard multiple positions and could excel as a small-ball power forward.
Cason Wallace, Kentucky: A pitbull defensively, the 6-4 Wallace can have a tremendous impact on a game without demanding shots. He'll form a quick and explosive backcourt this season alongside veteran floor general Sahvir Wheeler.
Chris Livingston, Kentucky: Livingston has great size at 6-6 and possesses a wide frame that allows him to absorb contact in traffic. Don't be shocked if John Calipari turns Livingston into an elite defensive rebounder this season because of his potential on the glass.
Keyonte George, Baylor: George showed massive promise for Baylor this summer in the Global Jam, where he regularly scored in excess of 30 points against international competition. He'll be a part of one of the best perimeters in the country this season alongside LJ Cryer, Adam Flagler, and redshirt freshman Langston Love, who missed all of last year due to injury.
Kel'el Ware, Oregon: Dana Altman is privately bullish on his team. The addition of the 7-foot Ware is a major reason why. The five-star freshman averaged 15.7 points and 6.8 rebounds at the FIBA U18 Americas Championship and is projected to be a Top-10 pick in the 2023 NBA Draft. Remember the name.
Jarace Walker, Houston: Kelvin Sampson has built one of the best programs in college basketball. The commitment of the 6-8 Walker — a five-star prospect — reaffirms that. A crafty power forward who excels in face up situations, Walker is lethal around the rim and on the glass. He'll instantly fit in with the Cougars.
Cam Whitmore, Villanova: Don't be shocked if Whitmore pushes for All-Big East first-team honors as a freshman — seriously. The 6-6 forward was the MVP of the FIBA U18 Americas Championship earlier this summer and has major star potential. Whitmore is a "one-and-done" caliber talent.
Julian Phillips, Tennessee: Rick Barnes returns several key pieces from last season's team that won the SEC Tournament, but the addition of the 6-8 Phillips could take the Volunteers to a different level. Phillips possesses a high long-term ceiling and is a big time talent. He'll add to Tennessee's strong returning nucleus of Zakai Zeigler, Santiago Vescovi, Josiah-Jordan James, and Olivier Nkamhoua.
Brandon Miller, Alabama: Nate Oats has been searching for an elite long and lanky forward since he lost Herb Jones two seasons ago. The 6-8 Miller is a prime candidate to fill the void. Smooth and skilled, Miller needs to add weight and strength, but should fit in immediately with the Crimson Tide's spread offensive approach.
Jaden Bradley, Alabama: Another season brings another highly touted point guard to Tuscaloosa. Just like JD Davison a year ago, Bradley is a five-star prospect who will have to be ready to contribute from the first day of practice — especially with Jahvon Quinerly's return date in question following a knee injury.
JJ Starling, Notre Dame: One year after securing a "one-and-done" guard in Blake Wesley, Mike Brey may have another in Starling. Expect a high usage rate for the 6-4 Starling, whose play at point guard may ultimately determine whether or not the Irish can return to the NCAA Tournament in 2023.
Jalen Hood-Schifino, Indiana: A physical specimen at 6-5, Hood-Schifino can play multiple positions on the perimeter and should take immense pressure off Xavier Johnson at point guard. This five-star prospect is expected to be a starter as a freshman for Indiana.

Jett Howard, Michigan: Minutes are available on the wing for the Wolverines and Howard is ready to capitalize. The son of Michigan head coach Juwan Howard, Jett Howard has great size at 6-7 and a natural knack for putting the ball in the basket. He'll play a big role for the Wolverines in 2022-23.
Gradey Dick, Kansas: A knock down shooter at 6-7, Dick will get quality shots simply by playing for Bill Self. He'll have a major role as a freshman as Kansas looks to identify outside shooting following the losses of both Ochai Agbaji and Christian Braun.
MJ Rice, Kansas: Broad shouldered at 6-5 and 225 pounds, Rice does not physically resemble a typical college freshman. An effective shooter and tenacious rebounder, Rice possesses a plethora of attributes that will make him an instant mainstay in Kansas' rotation.
Skyy Clark, Illinois: A former Kentucky commit, Clark is going to get the keys to the car at point guard for Illinois as a freshman. His ability to run Brad Underwood's offense will dictate whether or not this program can remain in the upper echelon of the Big Ten.

Trey Kauffman-Renn, Purdue (redshirt): Matt Painter's program is always associated with talented big men; Kauffman-Renn is next in line. After redshirting last season, this 6-9 forward should add another capable frontcourt piece for Purdue alongside Mason Gillis, Zach Edey, and Caleb Furst.
GG Jackson, South Carolina: Jackson's decision to reclassify from 2023 to 2022 is the primary reason why Lamont Paris' first season at South Carolina now possesses some tangible buzz. The 6-9 Jackson will be a focal point in everything that the Gamecocks do and should be one of the top scorers in the SEC.
Yohan Traore, Auburn: He's not Jabari Smith or Walker Kessler, but that doesn't mean that Traore doesn't have a chance to be one of the best freshmen in the country this season. The 6-10, 225 pound big man is super skilled and uses angles well around the rim. Traore has star potential — this season.

Bruce Thornton, Ohio State: The Buckeyes went heavy in the transfer portal this past spring to restock their roster, but Thornton will be the only member of Ohio State's newcomers who will be a starting point guard in the Big Ten as a freshman. As Thornton goes, so will the Buckeyes.
Judah Mintz, Syracuse: Jim Boeheim loves Mintz's long-term ability. He'll get the opportunity to showcase it immediately with the Orange. Expect the 6-3 Mintz to play a major role on Syracuse's perimeter as a freshman next to Joe Girard.
Leftovers