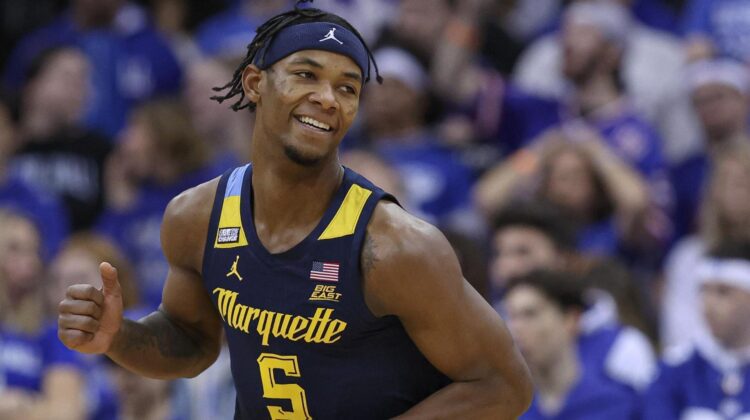 It's never too early to start looking ahead!
Check below for our list of 20 under-the-radar breakout players for the 2023-24 college basketball season.
*A breakout player cannot average double figure points in the previous season.
In no particular order:
Chase Ross, Marquette: Shaka Smart is bullish on the 6-4 Ross, who is a freak athlete in transition. Players always make their biggest jumps in between their freshman and sophomore seasons — expect the same to happen with Ross. He'll have a major role for the Golden Eagles after averaging 4.6 points in 16.4 minutes a year ago during the first season of his college career. 
Cam Carter, Kansas State: Carter was a starter on last season's team that reached the Elite Eight and should have a bigger piece of the pie in 2023-24 after the Wildcats lost both Markquis Nowell and Keyontae Johnson. The 6-3 guard averaged 6.5 points a year ago and should average in double figures for Kansas State during the upcoming season.
Isaac McKneely, Virginia: Can McKneely go from an ancillary piece a year ago to a go-to scoring option for the Cavaliers? It's definitely within the realm of possibility. A quality outside shooter, the 6-4 wing made 51 three-point shots last season and shot 39.2 percent from long distance. He's now in line to be a key piece for Virginia as a sophomore after averaging 6.7 points as a freshman. 
Ja'Vier Francis, Houston: There's minutes available in the Cougars' frontcourt and Francis is ready to take advantage. After averaging 4.3 points and 3.5 rebounds in just 10.3 minutes last season, the 6-8 Francis could double his averages in 2023-24 as a potential starter for Houston.
Baba Miller, Florida State: Miller didn't play his first game last season until Jan. 11th due to an NCAA suspension and never got into a rhythm after a slew of injuries decimated the Seminoles' depth. If Florida State is healthy, Miller has the talent, upside, and physical prowess at 6-11 to be a major part of this program's resurrection after a nine-win season a year ago.
Nick Martinelli, Northwestern: Martinelli averaged 5.6 points a year ago in games where he logged 15 minutes or more. His role is now set to be augmented. Smooth and slithery around the basket, this 6-7 forward knows what he's good at and is good at what he knows. He'll become a mainstay in Northwestern's rotation in 2023-24.
Jamaques Lawrence, Nebraska: The 6-3 Lawrence averaged 13.3 points and 3.8 rebounds while shooting 45.8 percent from three-point range during the final four games of last season and was a major reason why Fred Hoiberg's squad finished 5-2 down the stretch. He's now in line to be a starting guard for Fred Hoiberg's squad during the upcoming year and could be one of the most improved players in the Big Ten.
Dan Skillings, Cincinnati: Wes Miller needs mileage out of Skillings as the Bearcats transition to the Big 12. It says here that he'll get it. Blessed with gifts from God physically, the 6-6 Skillings should make a jump as a sophomore after getting a taste of college basketball last season as a freshman. He'll have a major hand in whether or not Cincinnati can crack the top half of the standings in what has consistently been the best league in college basketball.
Jayden Pierre, Providence: How will the Friars replace Jared Bynum at point guard? This guy. Pierre is set to get the keys to Providence's car under first-year head coach Kim English. His progression at the most important position on the floor is critical to whether or not this program returns to the NCAA Tournament in 2024.
Fredrick King, Creighton: The Bluejays may have one of the best backup centers in America in the 6-10 King, who quietly posted back-to-back double doubles last December when Ryan Kalkbrenner was out of the lineup due to illness. Older, seasoned, and more comfortable than he was a year ago, King has a chance to be a forceful presence on the interior thanks to his size and physicality.
Joshua Jefferson, Saint Mary's: The door is open for Jefferson to have a major role for the Gaels at power forward following the loss of Kyle Bowen. Never heard of him? That's why he's under-the-radar. Randy Bennett has made a career of taking mystery men and turning them into productive role players. The 6-8 Jefferson is next in line.
Donovan Dent, New Mexico: The Lobos' backcourt is about much more than just Jaelen House and Jamal Mashburn Jr. Why? This guy. Dent averaged 9.3 points last season in games where he logged 25 minutes or more and boasts All-Mountain West caliber potential.
Nick Davidson, Nevada: An unsung presence in the Wolf Pack's run to an NCAA Tournament berth, the 6-8 Davidson quietly had a solid freshman season, posting averages of 6.8 points and 4.1 rebounds. He'll have an even bigger role for Nevada up front this season after Will Baker transferred to LSU.
Micah Parrish, San Diego State: Brian Dutcher needs perimeter offense following the loss of Matt Bradley. Parrish could be of service. The 6-6 wing quietly averaged 8.8 points on last season's team that was a game away from winning the national title. His usage will increase in 2023-24.
Jamiya Neal, Arizona State: Neal averaged 9.6 points in five postseason games last spring and is primed to emerge as a consistent option on the wing for the Sun Devils. Long, bouncy, and ultra athletic, the 6-6 Neal is tailor made for Bobby Hurley's breakneck pace.
Dre Davis, Seton Hall: Shaheen Holloway needs a third double-figure scorer to emerge alongside Kadary Richmond and Al-Amir Dawes. Davis could be that guy. Many people are sleeping on the Pirates — it may not stay that way if Davis emerges into a force in the Big East.
Kanye Clary, Penn State: If you streamed the Nittany Lions' foreign trip to the Bahamas in August (I did), you saw major potential out of Clary. The 5-11 lefty operates with tremendous burst and is extremely crafty around the rim. Could he triple his freshman average of 3.7 points as a sophomore? It's possible.
Benny Williams, Syracuse: A former top-30 recruit, Williams has to finally live up to the billing that he arrived in Upstate NY with out of high school if the Orange are going to return to national relevance. Adrian Autry needs 10 and 7 from Williams, who was suspended for Wednesday's exhibition game.
Oziyah Sellers, USC: Sellers only scored a total of 28 points last season, but has a chance to carve out a role for the Trojans because of his shotmaking ability. The 6-5 wing could be a major weapon for USC as a floor spacing reserve alongside Isaiah Collier and Boogie Ellis. Sellers is a potential X-Factor to monitor at the Galen Center.
Jordan Longino, Villanova: Health issues have inhibited Longino's availability over the last year and a half, but the Wildcats' staff is still bullish on his potential. Much like former players at Villanova like Dwayne Anderson and Reggie Redding, the 6-5 Longino has major "Glue Guy" potential. He'll have to be a key intangible piece on the Main Line if the Wildcats are to return to the 2024 NCAA Tournament.
Leftovers