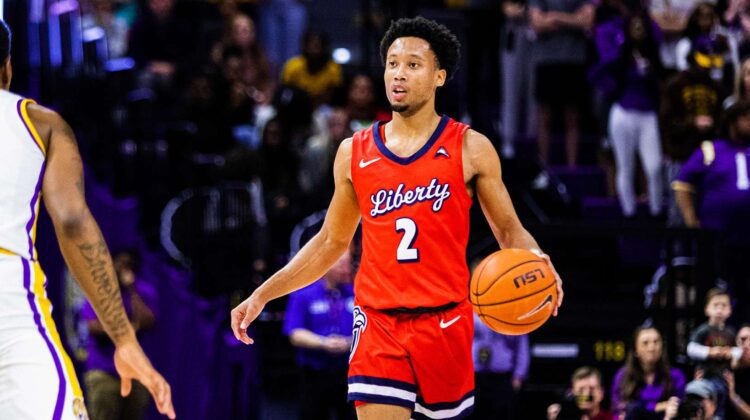 Check below for our list of 10 mid-majors to watch during the 2022-23 season.
This does not include Gonzaga or teams from either the Atlantic 10 or Mountain West.
In no particular order:
Saint Mary's: The Gaels have won 20 games or more 15 times in the 21 years that Randy Bennett has been Saint Mary's head coach. The trend should continue this season. Three starters — Logan Johnson, Alex Ducas, and Kyle Bowen — are back from last year's team that won 26 games and advanced to the second round of the NCAA Tournament. Bennett also features a dynamic dual option at point guard in Augustas Marciulionis and Aidan Mahaney, who played exceptionally well during a foreign tour this past summer in Australia. Well embedded moles in Moraga are also expecting a breakout season from 6-10 junior Mitchell Saxen at center. Gonzaga is clearly the team to beat in the WCC, but Saint Mary's — as usual — isn't too far behind.
Towson: Pat Skerry has never reached the NCAA Tournament during his tenure at Towson, but the 2022-23 season will give him his best chance. The Tigers return their top four scorers — Nicolas Timberlake, Cam Holden, Charles Thompson, and Jason Gibson — from a 25-win team that won the CAA regular season title and advanced to the Postseason NIT. Towson also added a potential mid-major sleeper in 6-5 transfer Sekou Sylla (22.4 points, 10.4 rebounds), who was the Division II Player of the Year last season at Nova Southeastern. There is no middle ground for this program — it's the 2023 NCAA Tournament or bust.
UC Santa Barbara: The Gauchos were never healthy last season, but a late six-game winning streak nearly put them in position to go to the NCAA Tournament for the second consecutive season. Two trips in three years is beyond realistic. Cal transfer Andre Kelly (13.4 points, 8.4 rebounds) is an immediate candidate for Big West Player of the Year and should form a power conference caliber baseline alongside former Oregon forward Miles Norris. Sophomore point guard Ajay Mitchell (11.6 points, 3.7 assists) was a revelation last year as a freshman while three other guards — Josh Pierre-Louis, Ajare Sanni, and Calvin Wishart — also return after averaging 25 minutes or more last season. UC Santa Barbara is well positioned to be one of the best mid-major teams in the country this season under Joe Pasternack, who is a combined 105-44 in his five years leading the Gauchos' program.
UAB: Andy Kennedy wanted a running mate for Jordan "Jelly" Walker following last season's Conference-USA title and NCAA Tournament appearance. He got one in LSU transfer Eric Gaines, who along with Walker should form one of the fastest backcourts in all of college basketball. Kennedy also added Mississippi State transfer Javian Davis, who should feast on opposing defenders in the low post thanks to his 6-9, 265 pound frame. Trey Jemison (seven points, 7.4 rebounds) and KJ Buffen (10 points, 6.8 rebounds) return as quality ancillary pieces. For UAB, anything less than hearing its name called on Selection Sunday will be a disappointment.
Western Kentucky: Another team from Conference-USA? You better believe it. Rick Stansbury's troika of Dayvion McKnight (16.2 points, 5.5 rebounds, 5.5 assists, 1.9 steals), Boise State transfer Emmanuel Akot (10.6 points, 3.1 rebounds, 2.8 assists), and 7-4 big man Jamarion Sharp (8.2 points, 7.6 rebounds, 4.6 blocks) is talented enough to compete with any trio in the country. The Hilltoppers' supporting cast isn't bad either. A pair of power conference transfers on the perimeter — Dontaie Allen (Kentucky) and Khristian Lander (Indiana) — will provide immediate depth next to Jairus Hamilton (12.7 points, 5.4 rebounds) and Luke Frampton (8.8 points). Stansbury has averaged 20.3 wins in six years in Bowling Green, but has never gotten Western Kentucky to the NCAA Tournament. This group will give him his best chance yet.
Liberty: Darius McGhee's decision to return to school for his fifth-season immediately pushed the Flames into the national spotlight. The 5-9 McGhee (24.6 points, 4.5 rebounds, 3.6 assists, 1.2 steals) is the best player in college basketball under 6-feet tall, but he's not a one-man show. Three seniors — Kyle Rode, Shiloh Robinson, and Blake Preston — are back to anchor Liberty's frontcourt while Brody Peebles and Joseph Venzant are back on the perimeter after each averaging 16 minutes or more last season. That means that Ritchie McKay has six of his top seven scorers — including a potential All-American in McGhee — back from a 22-win team.
Bryant: Can the Bulldogs win the NEC one year and the America East the next? Without question. Memphis transfer Earl Timberlake — a former Top-50 recruit — highlights a talented slew of newcomers that includes NCAA Tournament star Doug Edert (St. Peter's), Antwan Walker (Rhode Island), Sherif Kenney (La Salle), and Chauncey Hawkins (St. Francis NY). Jared Grasso will miss Peter Kiss — who was the nation's leading scorer last season — but Charles Pride (17.7 points, 8.6 rebounds) is back to add an element of returning experience on the perimeter. Bryant may not have as captivating an individual talent as it did a year ago with Kiss, but the Bulldogs' roster is deeper and more balanced. Two NCAA Tournament appearances through two different conferences is a distinct possibility for this program, which won just three games the year before Grasso arrived on campus.
Furman: The pain of last season's buzzer beating loss to Chattanooga in the finals of the SOCON Tournament will never go away for this program, but that doesn't mean that the Paladins don't have more than enough to be back in the exact same position next March. Bob Richey's top two returning scorers — Mike Bothwell and Jalen Slawson — are as good of a one-two punch as there is in mid-major college basketball while 6-4 guard Marcus Foster should emerge as a double figure threat after averaging 8.5 points a year ago. Wake Forest transfer Carter Whitt is a former Top-100 recruit who should also make a significant impact. Furman has averaged 22.2 wins in the last five years under Bob Richey; expect more of the same this season.
Drake: Darian Devries has posted four straight 20-win seasons at Drake, but he's never had a team that's boasted this type of experience. Three graduate students — Roman Penn (11.1 points, 3.9 assists, three rebounds) Garrett Sturtz (11 points, 7.1 rebounds), and D.J. Wilkins (10.3 points) — return after averaging double figures on last season's team that lost to Loyola Chicago in the finals of the Missouri Valley Tournament . 6-8 senior Darnell Brodie is also back while Texas Tech transfer Sardaar Calhoun should make a significant impact. 6-7 guard Tucker Devries (13.9 points, 4.6 rebounds) — the son of Darian Devries — is now a sophomore after leading Drake in scoring a year ago as a freshman. You won't want to see this team in March.
Akron: John Groce lost his top scorer — Ali Ali (Butler) — from last season's team that nearly beat UCLA in the first round of the NCAA Tournament, but there's still more than enough left over for the Zips to make a return trip in 2023. Akron's two best players against the Bruins — Xavier Castaneda (13.6 points) and Enrique Freeman (13.2 points, 10.8 rebounds) — are back and so are juniors Greg Tribble and Mikal Dawson, who both started against UCLA. Northern Illinois transfer Trendon Hankerson (11.4 points) and Ole Miss transfer Sammy Hunter should both play key roles as newcomers. The MAC is as competitive of a mid-major league as there is in the country, but Groce has enough to get back to the NCAA Tournament next March.
Leftovers